The Student Guide to College Planning
A high-level overview of the steps involved for students preparing to apply to college.
Self-reflection: tips for discovering your interests
The process of finding a college, and ultimately a career, that is a good fit for you starts with understanding who you are, what you enjoy, and what your strengths are. Depending on where you are in the process, the questions you reflect upon as a college-bound student might be simpler or more complex. Considering some of the following questions might help you get a start:
What school subjects do I enjoy most? Why?

What are some things I do well?

What do I like to do for fun? Why?

What am I challenged by? Why?

When I think of the future, what kind of impact do I want to have?
If you are a Scoir user, completing your YouScience assessment will help you to understand what potential career paths and college majors match with your unique interests and aptitudes. If you're looking for more guidance, here are our tips for finding your path for college.
An important note
Keep in mind that the process of self-reflection doesn't have a concrete end. That is to say, it shouldn't be viewed as something to be checked off of a list. Self-reflection is a lifelong endeavor, but by starting this practice early in high school, you can become better at identifying what people, places, and things fit you, complement your strengths, and uplift you. If you're just getting started, rely on your friends and trusted adults to help you find answers and identify your purpose. If you're a parent, here are some tips on helping your high schooler take ownership of their college search.
Understanding your options: college 101
You know about colleges and universities. Add online universities, community colleges and technical institutes into the mix. Season them all with regional identities. Fund some privately and others with money granted by their respective state legislatures. The resulting menu includes options for students with wide-ranging needs and interests. The key is to know the difference—and then make choices that represent good fits for you.
What classifies a university?
Universities are typically larger and always more complex institutions comprised of degree-granting entities at different levels of study: four-year undergraduate, graduate, and doctoral/professional degree.
What classifies a college?
By contrast, a college (independent of a university) offers a relatively simple institutional structure. It does not have multiple levels of study nor divisions within its program of study. More importantly, all of its resources are devoted to undergraduate education. The liberal arts college is an example of such an institution.
Other types of institutions
State colleges and universities
Public flagship universities
Private institutions
Research universities
Technical institutes and specialty schools
Community and junior colleges
Paying for college: financial aid 101
For most college-bound students, researching and applying for financial aid is a necessity. As if the work needed to gain admission to the college of your choice isn't enough, putting together the pieces of the puzzle in order to afford that college can be daunting, to say the least. So, what is financial aid, how can you get your hands on some, and when do you need to start researching it?
Understanding what you're paying for
College expenses typically include tuition, room, board, and "other fees." In addition to these, you should consider your out-of-pocket expenses for any extracurricular activities and extraneous items. Here is a breakdown of all the specific terms you'll want to understand about financial aid, including examples.
The five sources of college funding
After you understand what you're paying for, it's crucial to understand how you can make that payment. Listen in to our webinar where we review the graphic below, talk in-depth about sources of funding for college, and walk you through understanding the complexities of financial aid.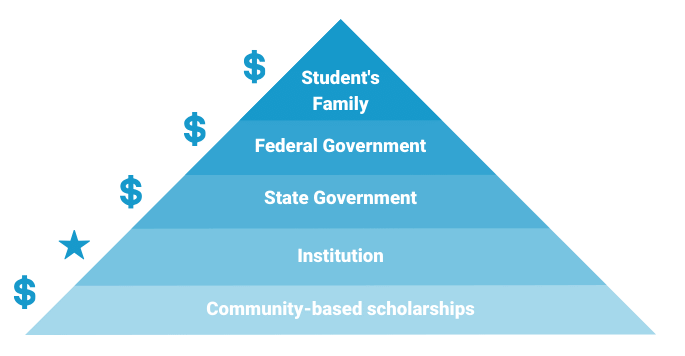 Be sure to understand FAFSA and the CSS Profile
If we're talking about financial aid, we can't forget to cover the FAFSA and CSS Profile. Filling out these two forms can help qualify you for different types of financial aid. Learn more about the differences between the two, when you should complete these forms, and more in our in-depth blog article, complete with examples.
High school to-do's by grade
To help you stay on-track toward your academic goals from 9th grade through to applying during 12th grade, we've put together the following list of to-do's. This isn't a comprehensive checklist of your year-to-year responsibilities, but rather a high-level overview of what's important as it relates to your college journey!
9th grade to-do's
Starting 9th grade and entering high school can feel intimidating. This year, try to worry less about how the courses you're enrolled in will look on your transcript, and instead focus on committing yourself to the coursework! Which subjects do you feel confident in? Which do you enjoy the most? Which are you struggling with?
Activities outside of the classroom like clubs, volunteering, sports teams, projects, and responsibilities at home will help you (and admissions officers) understand your capabilities and interests.
What types of activities did you participate in during 9th grade? Did you enjoy them or are you thinking about switching it up? Whatever you decide, now is the year to settle into your extracurricular activities and begin to develop a steady resume for college.
If you haven't already, now is the year to make an appointment with your counselor. Be sure to chat about course planning, upcoming college events through your school, and potential college interests.
The summer before your junior year should be spent learning about something, and participating in activities that help you identify your interests. Whether you work, sign up for a summer program, volunteer, or make your own plans, staying active during the summer will help you discover your interests.
The entire first section of this page was dedicated to talking about self-discovery. It is that important! Be sure you take every opportunity to reflect on your experiences in and outside of school. 10th grade is an ideal year to start considering potential career paths, talking with mentors, and researching colleges. If you're a Scoir student, now is the year to take your YouScience assessment!
As you gain a better sense of your interests, now is the time to start researching colleges. Start broad and aim to have a refined list by the end of your junior year, or no later than the fall of your senior year. If you're a Scoir student, explore College pages, utilize College Compare, and continue updating your profile.
This year is the year to have a frank discussion with your parents or guardian about money matters related to college. Jump to the 6-minute mark of our webinar, where we provide some tips on how to have this conversation.
The spring of junior year is the time to take your standardized tests. Give yourself plenty of time to study and the opportunity to retake these tests, if you choose.
If you have the opportunity to visit colleges in person, spring is the time to start doing so! If you're not able to visit as many schools in person as you would like, try signing up for online information sessions or virtual open houses, and explore the online presence of colleges and universities as much as possible. Scoir students can learn more about registering for visits here.
When you apply to college during the fall of your senior year, you'll need a few letters of recommendation. Make sure to ask your teachers well in advance of summer vacation so you're not inundating them with a last-minute request.
As you go into your senior year, you want to be sure to maintain an upward trajectory with your courses. Senior year classes and grades do matter! Don't try to coast on your way out. Likewise, this summer matters just as much as any previous summer.
Preparing to apply to colleges
After months, and sometimes years, of research and preparation, when college application season rolls around, it's natural to feel a bit uneasy. You may have some questions floating around your mind, such as:
"Should I apply Early Decision?"
"Will applying Early Action help my case?"
"When is the best time to apply to Regular Decision schools?"
"Would it hurt to apply to few extra colleges to see if I can get in?"
"When is it too late to apply ED?"
We want to help you overcome any uneasy feelings. So, let's review the application process, some deadlines, and how to optimize your applications.
Different admission processes require different deadlines
Deadline-Driven Admission
Early Decision and Early Action are much different from rolling and regular decision applications, and have many nuances that you can learn about here. Should one of the colleges on your list emerge as your absolute first choice, you might want to entertain applying ED or EA. Be prepared to apply in November, with decision letters being received by December.
Rolling Admission
Colleges with rolling admission will evaluate applications as they are received, and continue to do so until they've filled their incoming class.
Regular Decision
Regular Decision deadlines usually occur in January and February, with decision letters being received by April.
Optimizing your college applications
Target no more than 8 college applications. Focus on the quality of your applications, not quantity.

No more than 3 colleges where you probability of admission is 40% or less (a reach school)
At least two where you probability of admission is 60% or greater (a safety school)
2-3 where you probability of admission is between 40%-60% (a level school)

6 critical components of your college application.

A well-prepared application itself
A thoughtful essay
Impactful letters of recommendation
Strong senior year academics
Continuous interactions
Successful interviews
(Read more about the above items here.)
Start your college journey with Scoir today