College Admissions Counseling Simplified
A better way to help students explore their talents, find their fit, and apply to college.
Built

for counselors, with c

ounselors

Simple solutions for every part of your process.
Manage your time and conversations with ease
One, centralized place for you to interact and plan with students, families, and teachers.
Communication center with library & subscriptions
Send students, families, and teachers direct messages or use advanced filters to create any segment you can imagine.

Browse professionally-written emails in the library, designed to engage your students and their parents/guardians, and subscribe to automate your work. Explore categories like College Essay Prep written by College Essay Guy, to guide your students along every stage of their journey. New emails added quarterly.
Advanced email & scheduled email
Authorize your work email address to email as many recipients as you'd like, right from within Scoir. Plus, work smarter by scheduling your emails ahead of time.
Calendar management
Spend less time coordinating & more time connecting. Schedule in-person or virtual visits with college reps, set up office hours with students, and share this calendar publicly.
Quickly gauge student progress
The data you need to keep everyone informed and on track, right at your fingertips.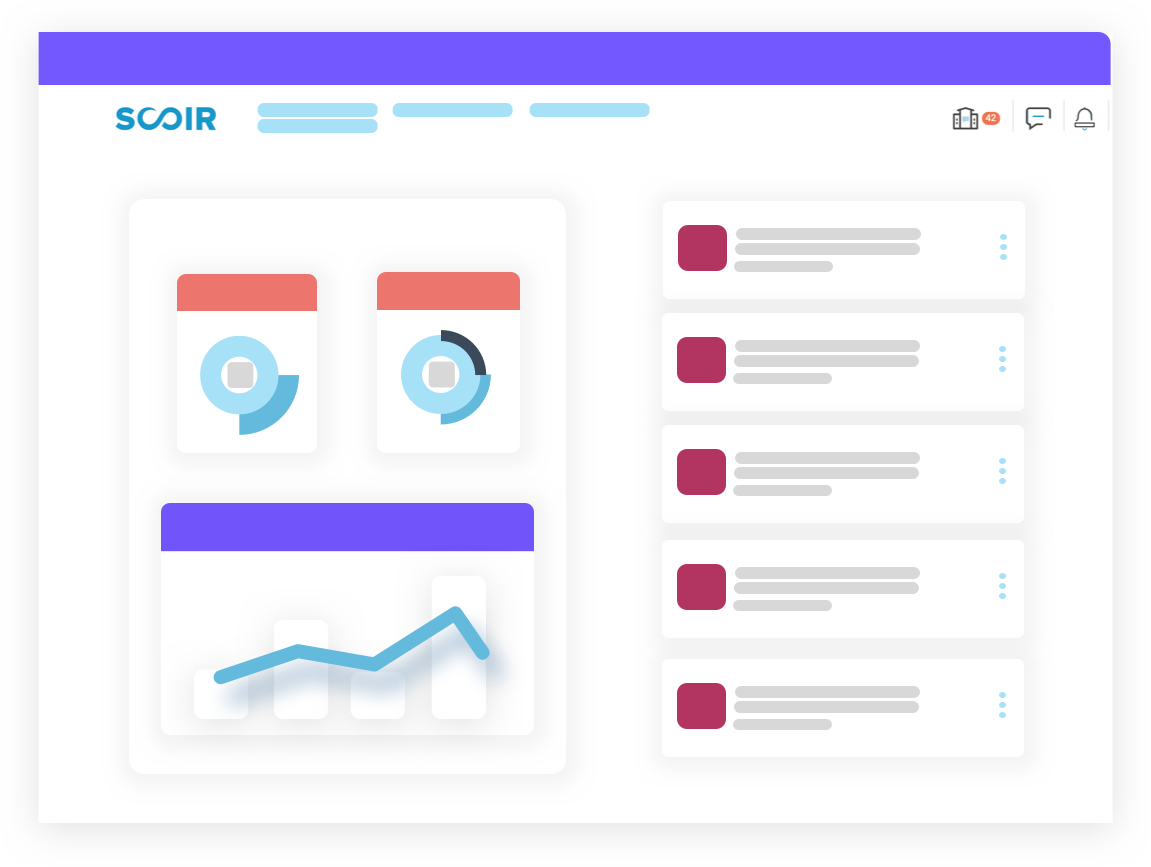 High school dashboard
Gauge student progress by class year, see outcome data (even for alumni), track performance, and keep events and deadlines top of mind.
Data & reporting
Roster your students from Student Information Systems, like Clever or ClassLink. Then, keep track of student progress, review college acceptance statistics based on your school, or create your own report.

Outcomes, enrollment decisions & plans
Manage application outcomes and record admission decisions as students make their final choices. You can even set non-collegiate plans if a student chooses to pursue another path after high school.
Guide with impact
Spend less time on administration and more time helping students who need you the most.
Built-In discovery and exploration
Students can take the PrinciplesYou Character Assessment, a career interest assessment, College Match Quiz, and update preferences in their profile. Based on what they share, Scoir will help them find colleges and careers that meet their criteria. Students can also take advantage of predefined searches to jumpstart the discovery process.
Student Profiles & simple college Suggestions
Get a snapshot of each student or dive deeper into their personal details, academics, activities/achievements, college preferences, career profile, and more. Armed with that insight, make college suggestions simply, to just one student or to many.
Surveys & MyDrive
From brag sheets to the occasional check-in, surveys can be used in a variety of ways to quickly gather the information you need. Once students start to create, easily share documents via MyDrive.
College Readiness Curriculum
Complete with 55 lesson plans and activities, our ASCA-compliant curriculum is designed to be used in tandem with Scoir as you guide your grade 9-12 students.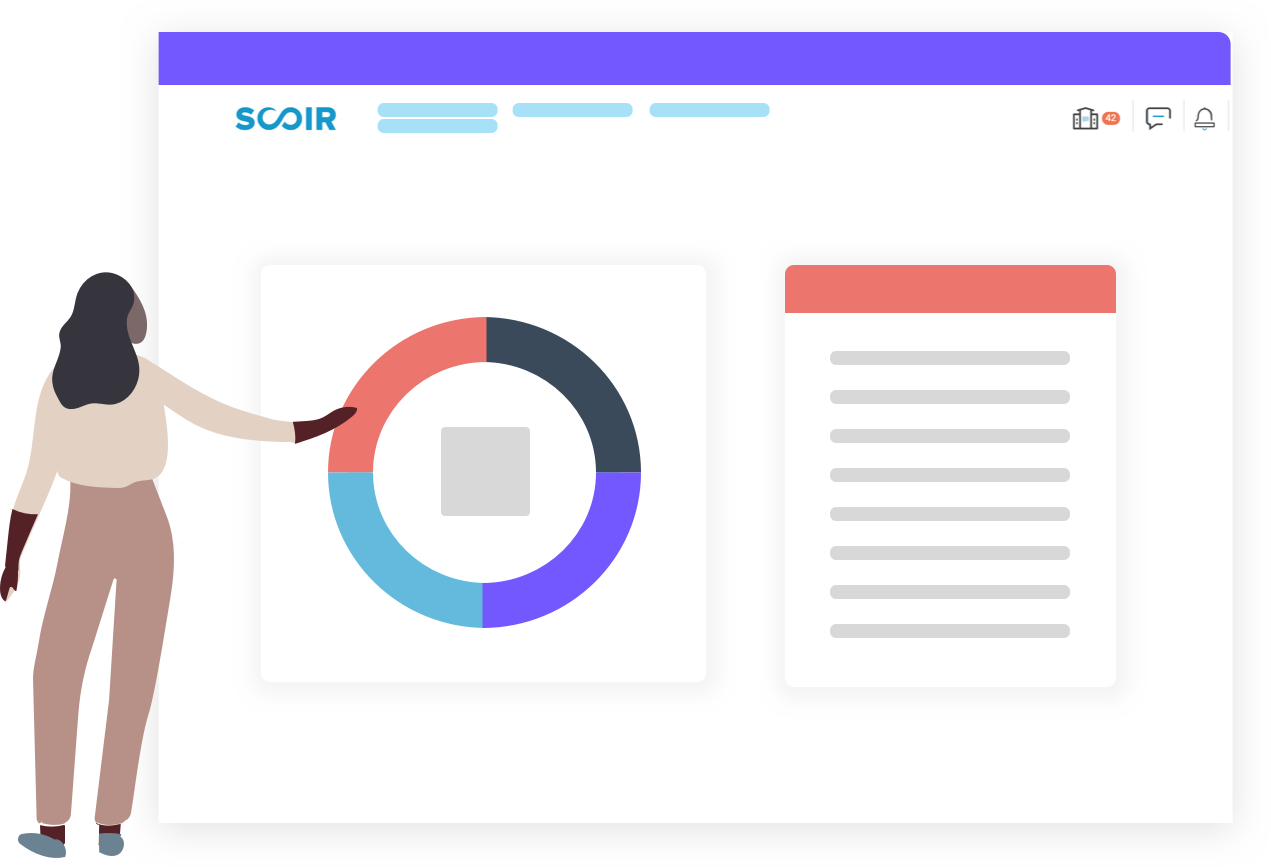 Help students apply, without the stress
Now, students can apply with Scoir!
Seamlessly transition students from discovery to application
Using their profiles already on file, students can apply to multiple colleges at once, right on Scoir. Just look for the lightning bolt!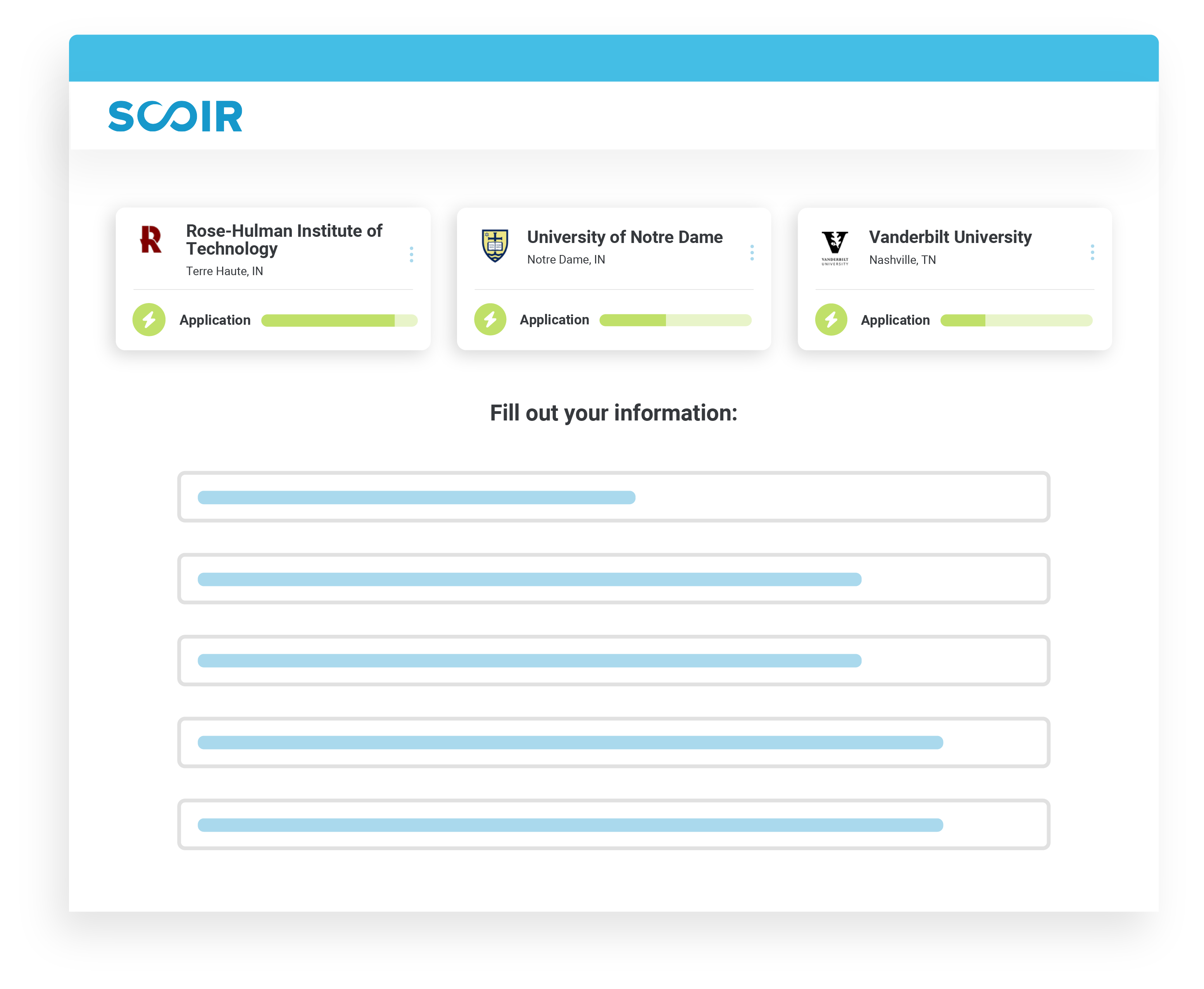 Stop wasting time tracking down application requirements
Whether average SAT scores, cost of admission, or application deadlines, we aggregate data from IPEDs so you know you're getting the most up-to-date information that you can trust.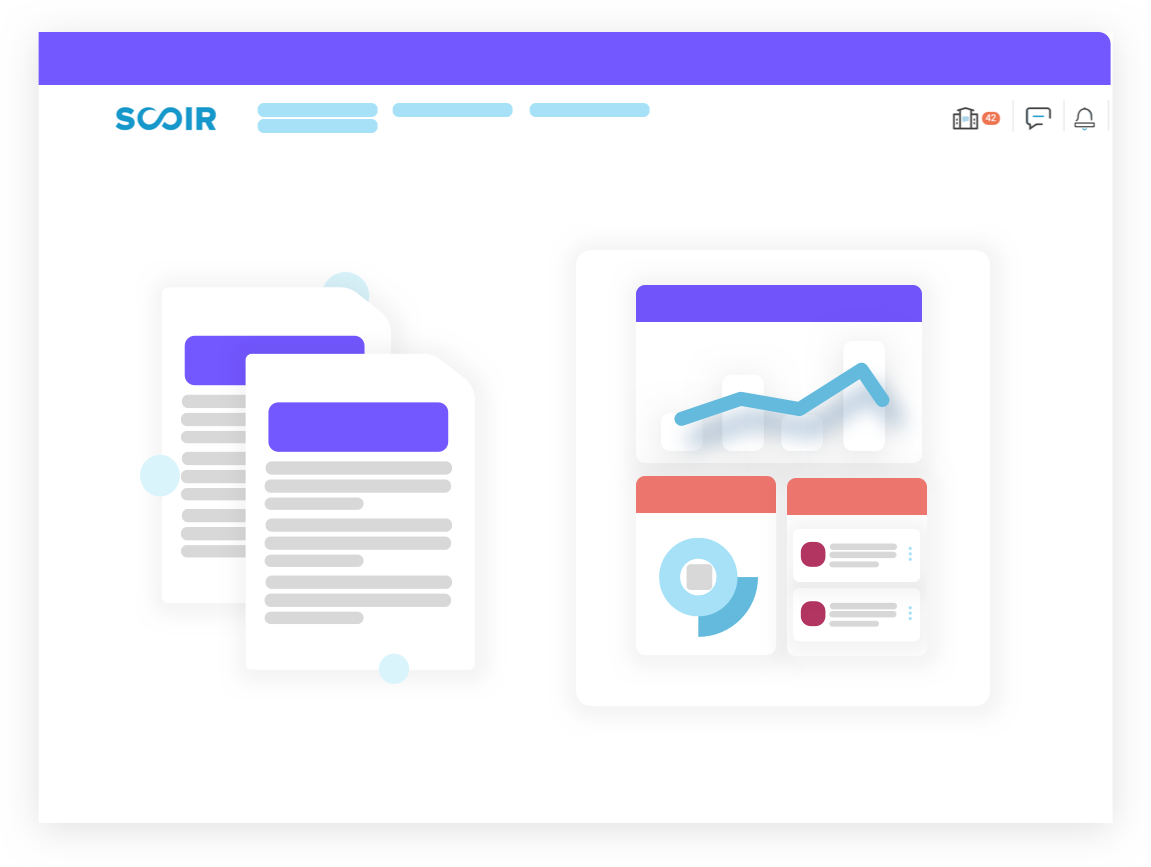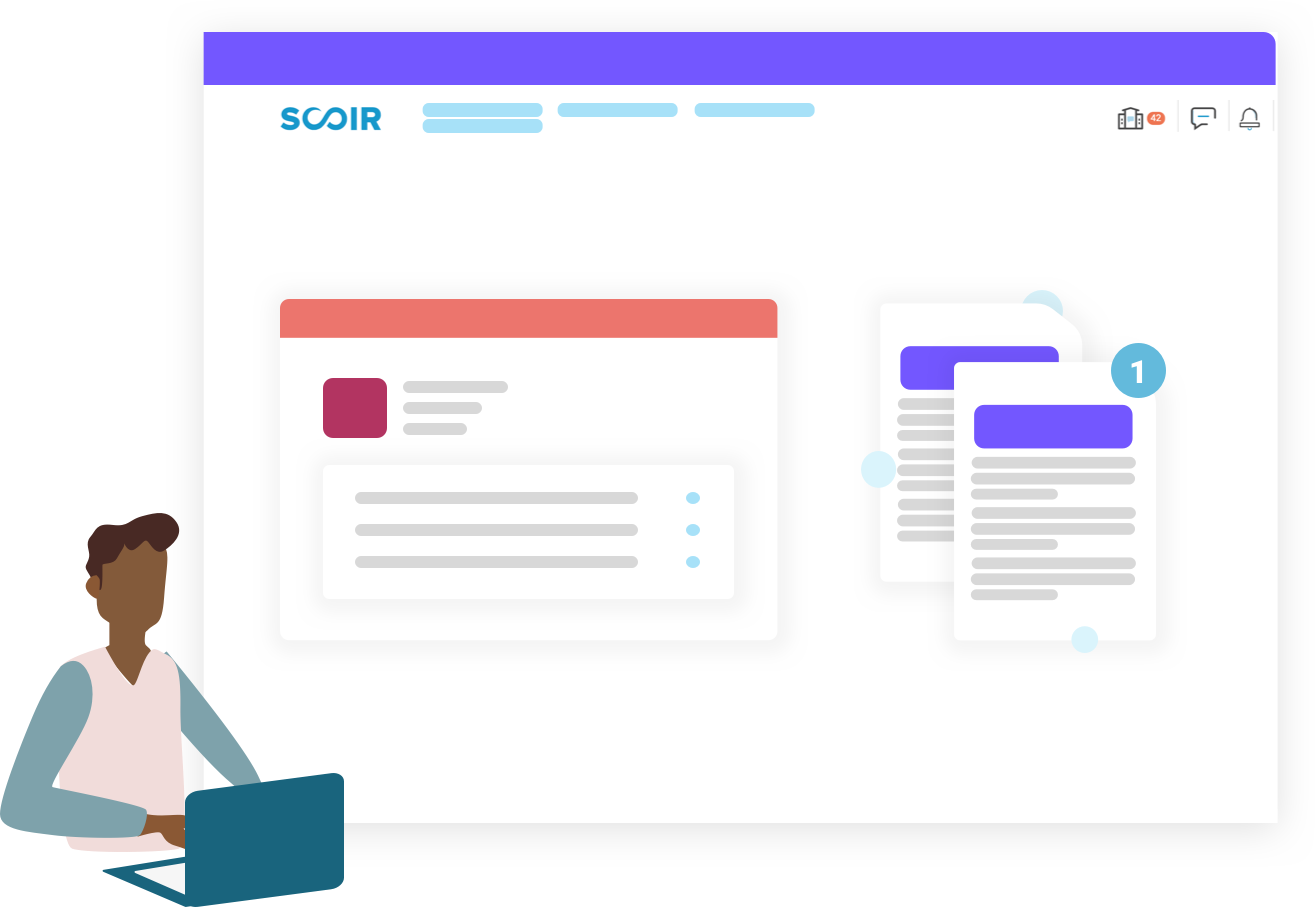 Manage & send documents with confidence
Quickly identify missing requirements, keep track of deadlines, and send application documents simply.
District-level visibility & communication
Whether you're a superintendent over a district or a headmaster managing a network, our dashboard and communication tools give you the visibility and connection you need to lead your schools with excellence.
Scoir connects all the schools in your district or network via one dashboard so you're equipped with key insights related to student engagement, application status, and more. With Advanced Email, you can take action on those insights by easily communicating with all counselors, students, and families.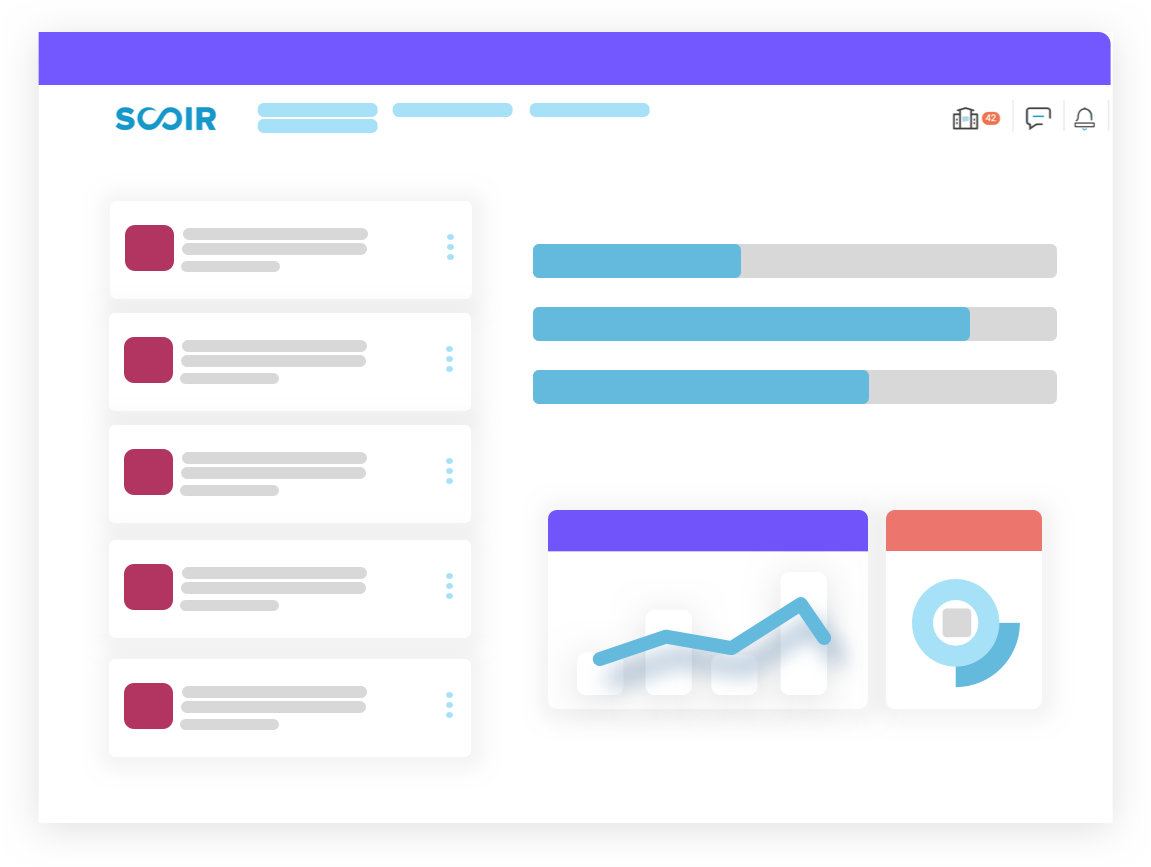 Scoir is
discounted

for schools
where students receive free or reduced lunch

We don't just believe in access. We make good on it.
Join a demo or schedule a consultation
Want to learn more about implementing Scoir at your school or district? Join us for one of our upcoming live one-hour product demonstrations, or if you're ready to talk with our team, schedule a consultation.
Advanced Email (Bulk Recipients)

Scheduled Email

Scoir Library & Subscriptions

Direct Messages

Surveys

Calendar Management

Recurring Office Hours

Virtual & In-Person Visits

Dashboard

Counselor, Student & Parent/Guardian Mobile Apps

Responsive Support & Dedicated Customers Success

Seamless Application Experience

Document Sending to 1,800+ Connected Colleges
Student Plans & Outcomes

Student Profiles & Preferences

File Sharing via MyDrive

Surveys

Letters of Recommendation Requests

Advanced Filters (Including Missing Required)

Early Decision Contracts

Fee Waivers

Standard & Customized Reports

Simple College Suggestions
Daniel Monahan
Director of College Counseling, St. Andrew's-Sewanee School
"Our students loved it from the start. They have found it intuitive and in line with how they interact with apps/search engines. The engagement level of the students from the beginning was off the charts. I've been telling everyone I can to make the switch to SCOIR."
Matthew Mettille
Director of College Counseling, Menlo School
"This is our first year using SCOIR and we have been impressed by our very first interaction. The customer service is superb, the platform and user experience are intuitive and fun. The SCOIR team responsiveness to the needs of their users has been top-notch! Thanks for everything!"
Jenna Schebell
Director of Guidance, St. John Vianney High School
"Switching to Scoir was the best decision we ever made. Having worked on both sides of the desk - first in college admissions and now on the high school side - I love that Scoir really takes the time to understand the needs of all its users and is constantly seeking to improve and add enhancements. I have to give major kudos to the customer service people - the response time is phenomenal."
Dustin Lynn
Director of College Counseling, Battle Ground Academy
"Our transition to the SCOIR platform has been seamless. The entire SCOIR support team has been attentive, knowledgeable, and helpful at every turn. Most importantly, our students are loving SCOIR. The intuitive nature of the platform teamed with the modern interface has been a hit with our students, and we are already seeing students engaging more thoughtfully and consistently with their college search and application process."
Geri Perkal
Director of College Guidance, Rudolf Steiner School
"Our students have found SCOIR to be intuitive and informative, and they have taken the initiative in exploring various features. I am not sure if I am more impressed with the product or with the company; the entire company is passionate, attentive, and responsive."
Start your journey with Scoir
Ready to simplify College Admissions counseling?