Not another application.

A better process.

In August 2022, students will apply to Coalition colleges via Scoir, using their profiles already on file.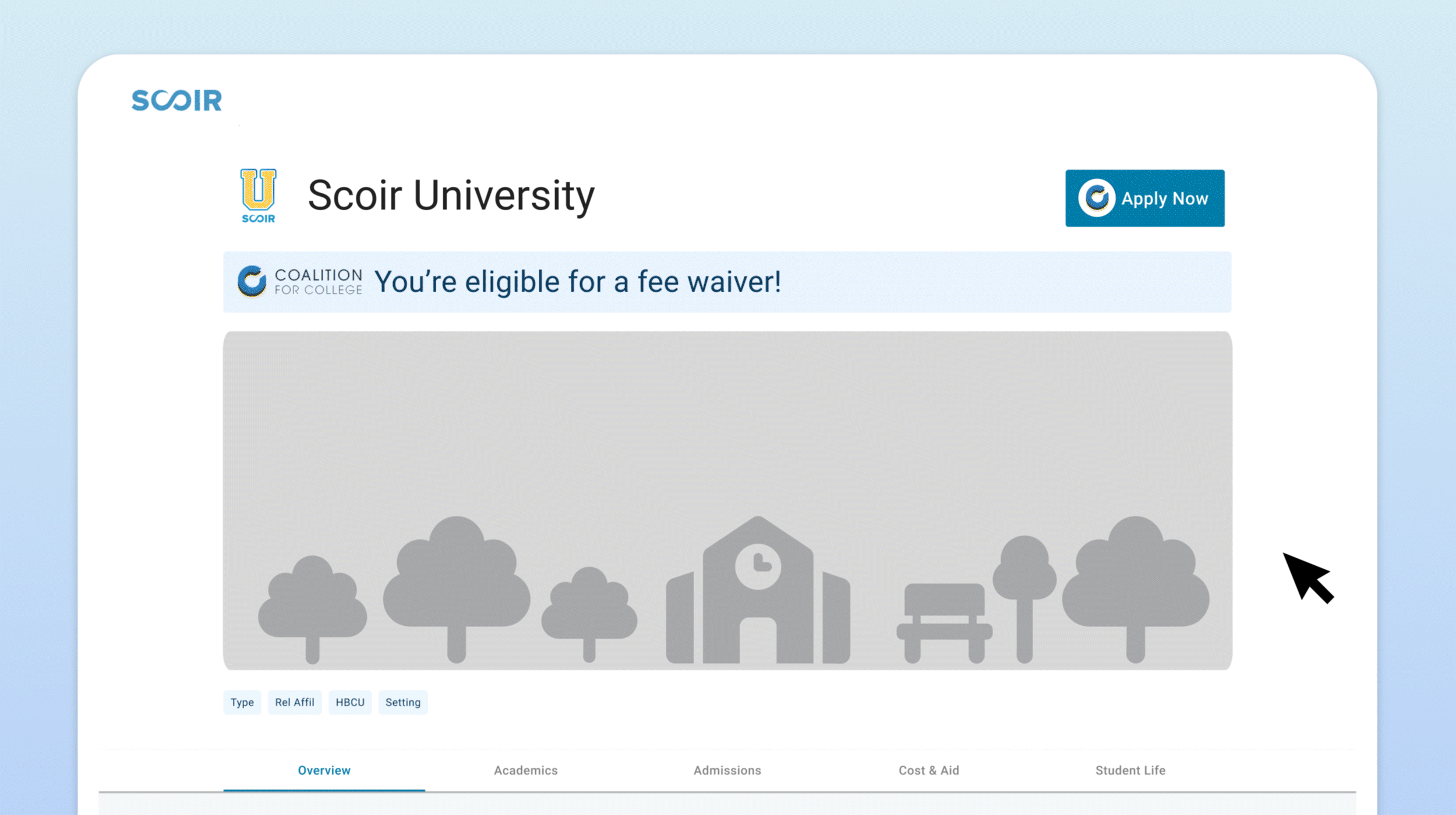 How this helps counselors
Your counseling process won't change (except for the better!)
Say hasta la vista to My Coalition
Coalition for College will discontinue its standalone application portal. No more separate accounts to manage!
Supercharged document delivery
Regardless of how a student applies, you'll send documents exactly the same. For students who apply with Scoir, you'll access even more information.
Real-time application status
Counselors (and students) will review the status of applications initiated via Scoir, inside Scoir. Fewer accounts and credentials to manage sounds great to us!
One account, not two (or more)
Because Coalition is discontinuing its standalone application portal, your students will be able to search, discover, and now apply to Coalition colleges all from the platform you already know and love...Scoir! The best part? If a student chooses to apply with Scoir, some of the information we have on file for your students will be automatically populated on their applications! Less work for them, and for you.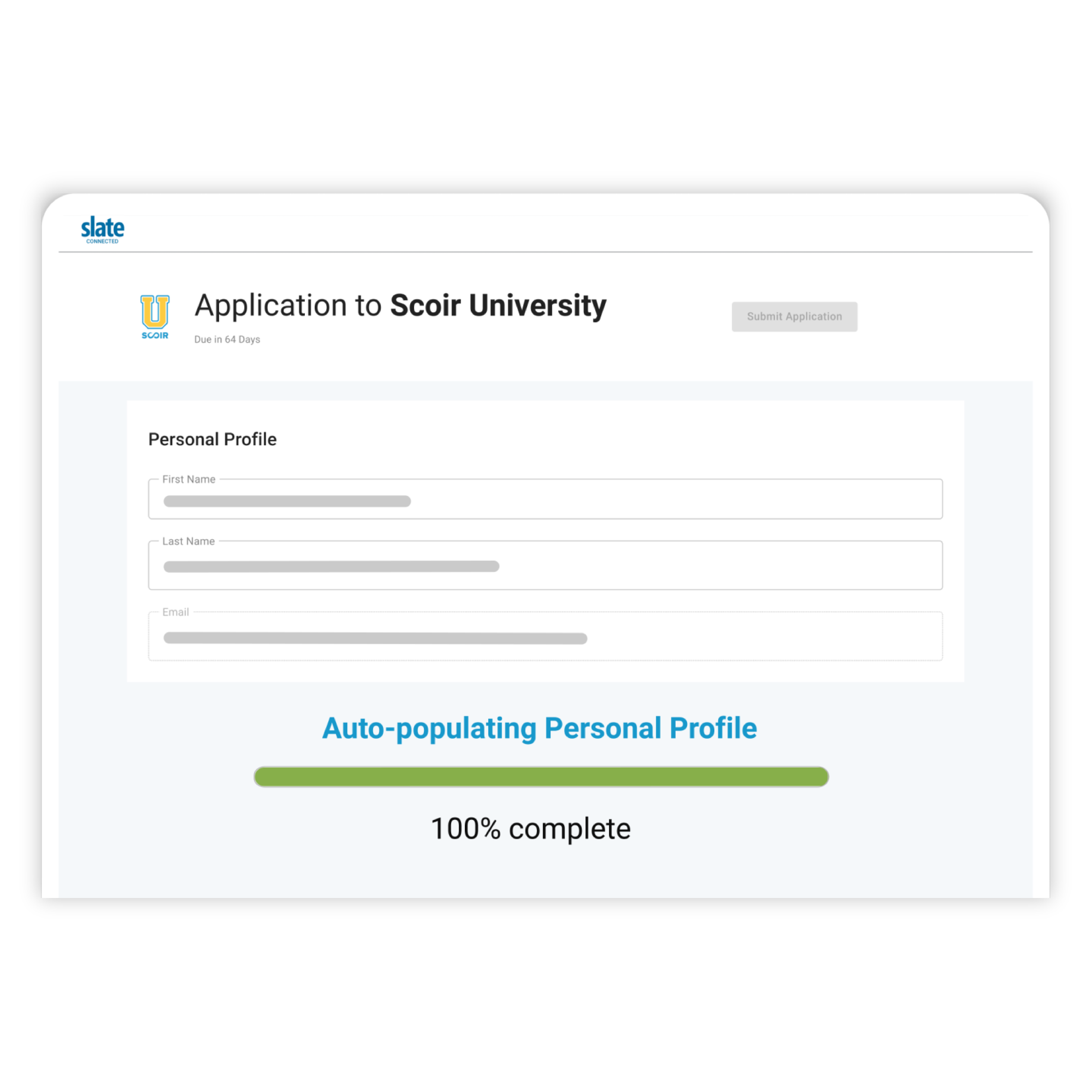 *All illustrations are conceptual. They are not intended to show exactly how the experience will look in final form.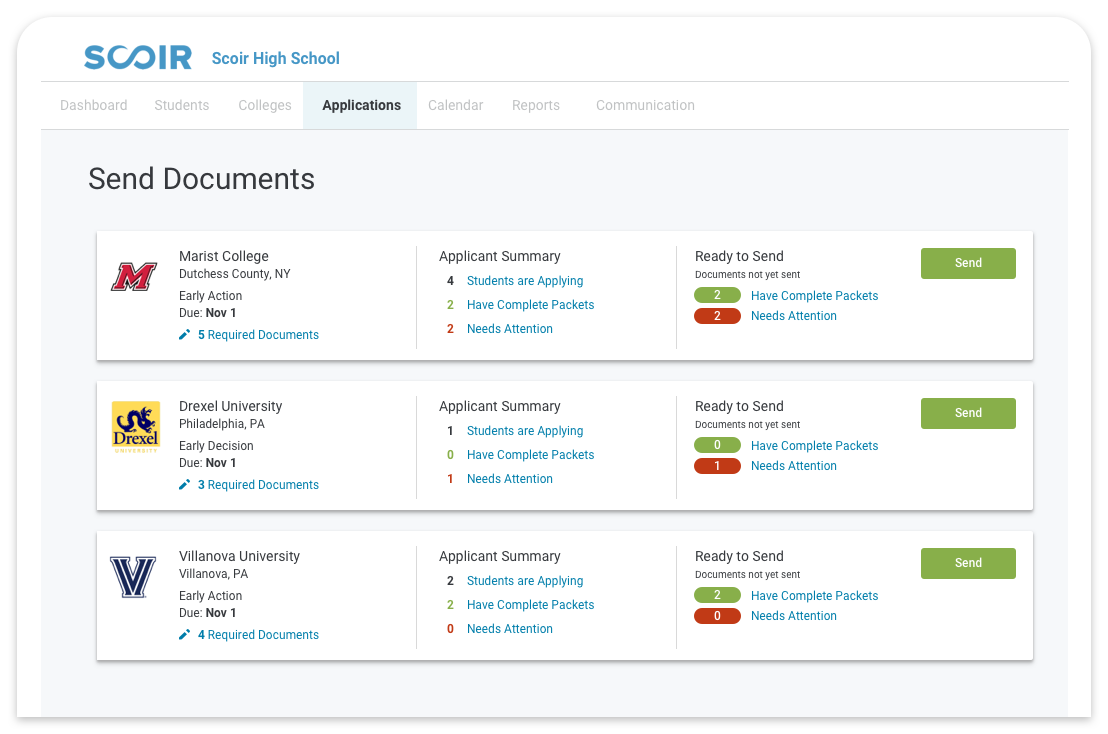 *All illustrations are conceptual. They are not intended to show exactly how the experience will look in final form.
Streamlined document delivery
Sending documents through Scoir is simple. That won't change when your students apply with Scoir. Instead, for those students who use the platform to apply, you'll see real-time information on any outstanding documents.
Real-time application status
No need to create yet another account! When students apply with Scoir, they'll be able to see the status of their application, as will you!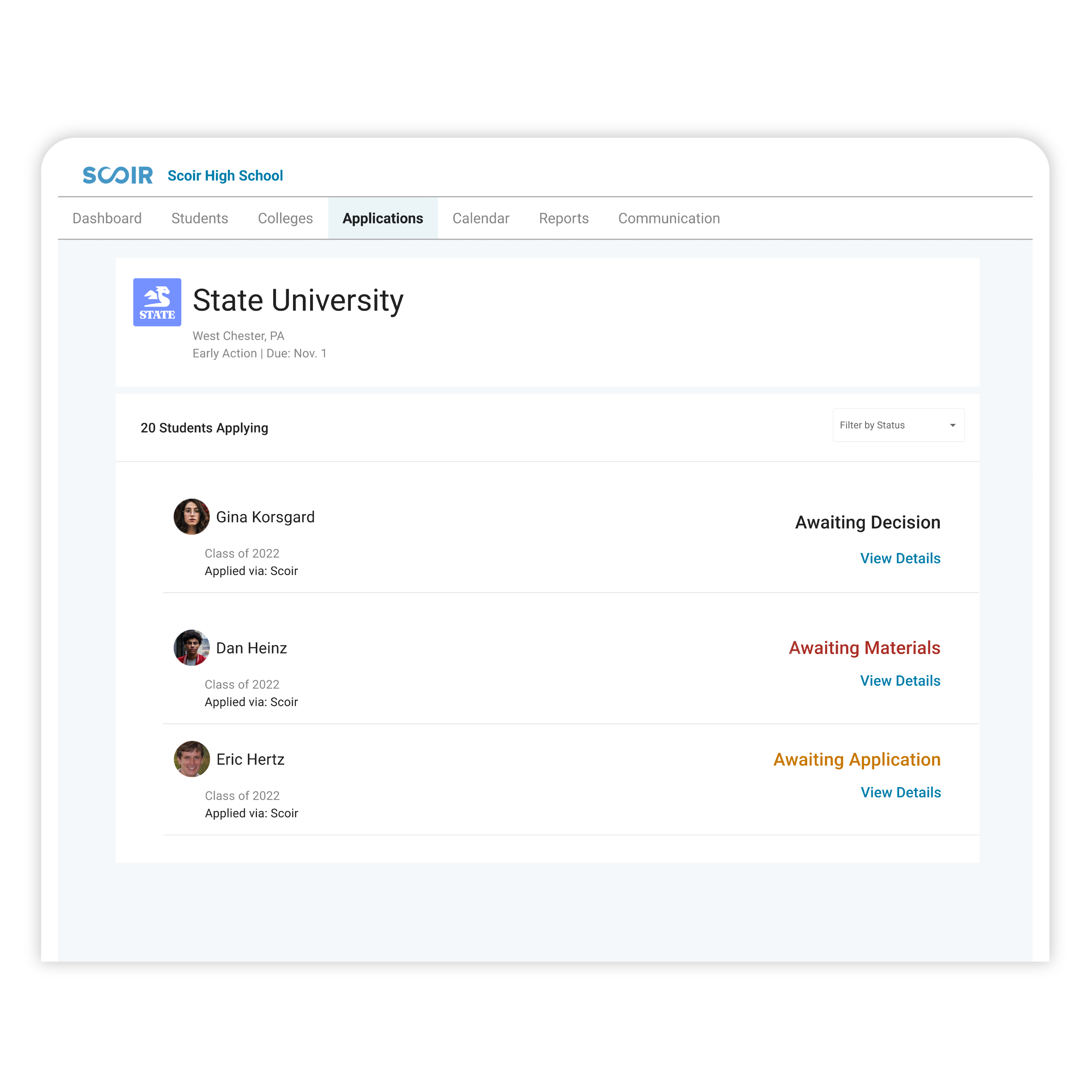 *All illustrations are conceptual. They are not intended to show exactly how the experience will look in final form.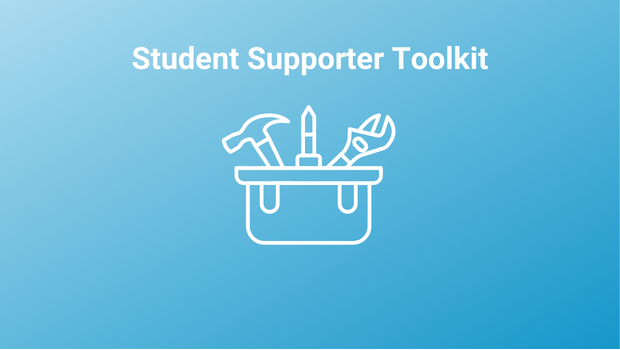 This page includes all of the resources you need to help your students find their college fit and apply.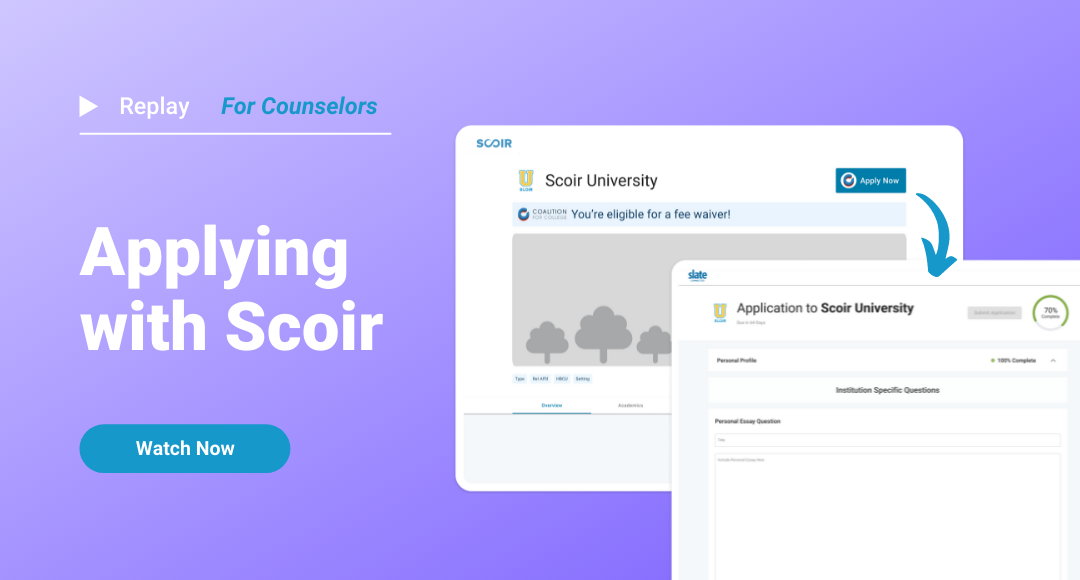 Want to learn more about applying with Scoir? In this session, we'll walk you through what the application process (coming August 2022) will look like.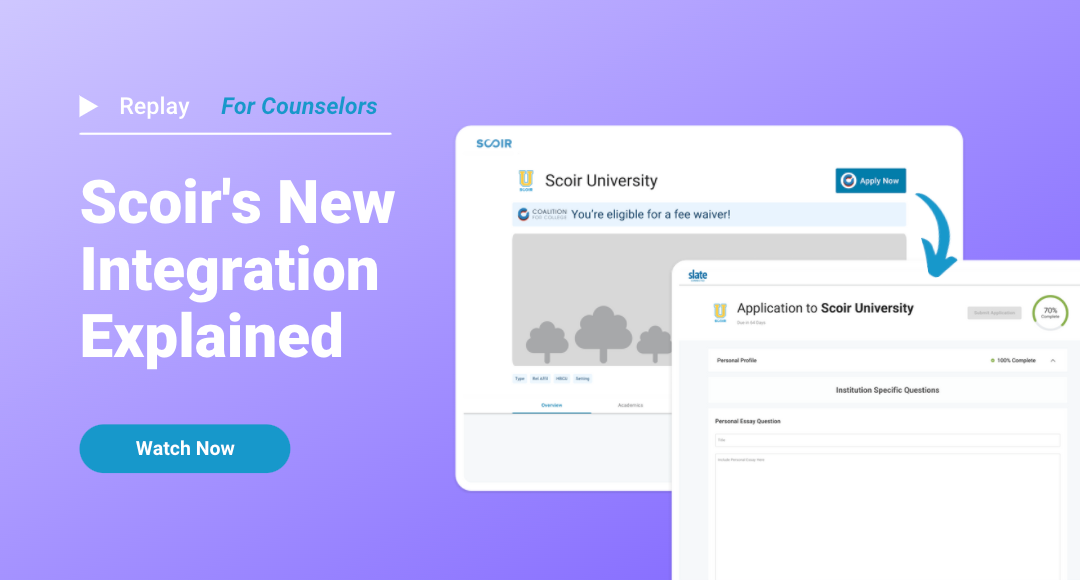 In January 2022, we announced our new partnership with Slate and the Coalition for College. During this webinar, recorded in February, we walk through what the integration means for students and their counselors.
Frequently Asked Questions
Students can begin applying on August 1, 2022.
The integration poses no change to existing counselor workflows. If anything, the integration removes the friction of managing supporting materials for applications submitted through a separate portal.
Scoir Counselors
Counselors in high schools already using Scoir to support their college advising programs will continue to use Scoir to manage and deliver supporting materials for all applications, regardless of how they are initiated.
Non-Scoir Counselors
Counselors using a different or no college guidance software can continue to use existing processes and tools to manage documents in support of applications submitted through Scoir to Coalition members.
No. The cost remains the same for all high schools and we will continue offering Scoir at no cost to Title I eligible schools.
We're actively building our network of colleges that accept applications from Scoir. The list, which grows each week, can be accessed here.
No. Scoir is reimagining the entire experience.
Every year, there's a subset of Coalition colleges that choose to either opt out of receiving the application, or defer until a later point in the application cycle. The same is true this year.
Yes! Every week, Coalition members are committing to accept the app. You can see an up-to-date list here.
If your student wishes to apply to a non-Coalition college, their process and yours remain the same. The student will apply via the application method that makes the most sense for them, and once complete, the student will update Scoir to reflect the submission. You will then send supporting application materials, as before.
No, students (and their counselors) can choose whichever application experience serves them best. For those colleges that do accept applications from Scoir, we recommend applying directly through the platform to save your students time and stress.
Students will only be able to apply to Coalition member colleges through Scoir. The list of current members can be accessed here.
Scoir is free to all students, meaning anyone can sign up and apply via this method.
The same way they did before.
No. Counselors will retain control over all document sending.
Personal details (name, address, DOB, etc.)
Demographic info (ethnicity, citizenship, etc.)
School info (address, CEEB code, etc.)
Test scores, if applicable
No. While activities will not auto-populate on the application day 1, we do plan to offer that functionality for future application cycles.
Yes, a student can edit all of their information, prior to application submission. Some fields will be pre-populated but we'll ask the student multiple times to verify that information before they initiate their applications. Once an application is submitted, any edits made on Scoir for future applications will be reflected in those applications, but they will not be sent to those colleges where a student has already applied.
No, Coalition is discontinuing its standalone application portal. Students will use their Scoir accounts to apply to Coalition colleges.
You'll receive the same notifications as you do today: email and in-app, according to your configurations.
Students will be able to preview the full application.
Yes. Not everything that appears in a student's profile will be shared with colleges
(i.e. test scores) and students can edit before submission.
Counselors will be given read-only access to students' applications on Scoir.
You can absolutely create a fake student and fill out the application profile in Scoir, but we would caution you not to submit that test application. Doing so will notify real colleges of fake applications and create confusion.
As before, the configurations colleges set will drive status sharing for students.
No, Scoir will not be integrated with Common App. As in years past, students can choose whatever system they want to submit applications. Regardless of how students apply, Scoir will continue to assist you in preparing, sending, and tracking all application-related documents to more than 1,250 colleges. To prevent counselors and teachers from receiving duplicate requests for materials, please reference our Applying with Common App guide for more details.
During application configuration, each college will indicate their test policies, whether test blind, test optional, or requiring test scores. When a student reaches that portion of their Application Profile, they'll be informed of those college-specific test policies. When students submit the first part of their application from Scoir, they'll be asked whether they'd like to send test scores for those schools that are test optional.
While test scores will pre-populate, students will ultimately determine whether they'd like to submit those scores when it comes time to actually apply.
If a student chooses to share their test scores with a college, highest subject scores, along with highest comprehensive/total score and their associated dates will be sent. Scoir will not send a complete score history.
Test scores are considered self-reported.
In the application profile, a student will be able to indicate if they're awaiting scores, or if they plan to test in the future.

After the application is submitted and once those scores are available, the student will need to follow up with the college to provide the scores.
As soon as an application profile is sent to a college, anything subsequently updated in Scoir will not be sent to that college. It must be manually communicated to the school, instead.
Yes! We recommend sharing this Application Experience video with students. More resources due out this summer, including guides, classroom handouts, worksheets, etc..
Yes! The application experience will be available natively in the iOS App.
You can review Coalition's essay prompts here.
No, the ability for students to submit applications through Scoir is now part of our core product and will continue to expand. However, as a student-centric company, we don't believe in exclusivity. So, students will have options and can choose whichever application method serves them best. Regardless of how students apply, counselors should continue using Scoir to prepare, send, and track all application-related documents.
Community based organizations (CBOs). They will be equipped with tools on Scoir to help guide their students through the college search and application process, increasing the impact of this new experience to a greater number of students across the country.
Parents will also continue to support students on Scoir via the capabilities provided to them today.
Yes! We're building an experience in Scoir specifically for Community Based Organizations (CBOs).
No. You'll continue to receive the same level of support you've come to know and love from our team!