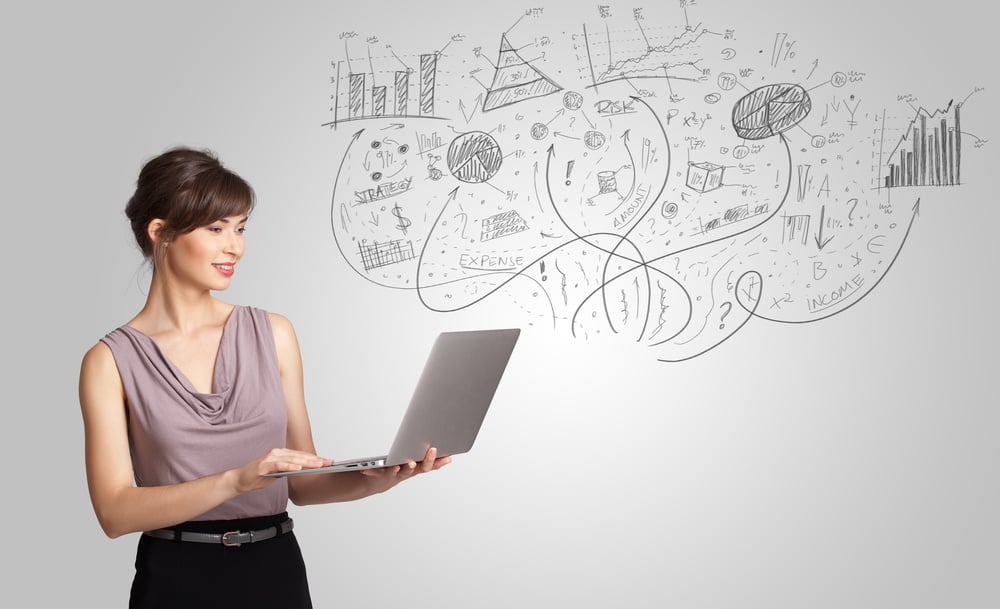 FAFSA & CSS Profile - A Straightforward Guide to Understanding Financial Aid
By Erin Barnes on October 13, 2020
Financial aid for college is available through several different sources. Understanding each source is paramount in minimizing the cost of college. According to the College Board's "Trends in Student Aid 2019," close to 246 billion dollars were provided in federal, state, and institutional grants in 2018-2019. Wondering how to get your hands on some of this money? You need to apply for the two main forms of financial aid: the FAFSA and the CSS Profile.
What You'll Learn:
FAFSA: An Overview
What is FAFSA?
FAFSA is the Free Application for Federal Student Aid, which is used to determine the eligibility for aid that a person is qualified to receive from the government to help pay for college.
There are a few important words in the title. First, it is FREE to fill out - there is no reason to pay someone else to fill out your personal information on this six-page document. Second, this application is how the federal government determines whether someone is eligible for any type of aid - grants and loans alike. Lastly, some colleges use the FAFSA to award their institutional aid.
What Type of Aid Does FAFSA Help Me Qualify For?
Completing the FAFSA qualifies you for several different types of aid. We've put together a helpful chart to help you understand the types of aid, along with examples.
Type of Aid
Explanation of Aid
Examples
Federal Grants

Money that the federal government gives a student, which does NOT need to be paid back.

Federal Pell Grant

Federal Supplemental Educational Opportunity Grant

Teacher Education Assistance for College and Higher Education Grant (TEACH)

Iraq & Afghanistan Service Grant

State Grants

Money that the state government gives a student, which does NOT need to be paid back.





(36 states use FAFSA to determine state grants. If your state is not on that list, check your state's financial aid administrator website to learn how to apply for state aid.)

Low Interest Federal Loans

Loans that are backed by the government and MUST be paid back over time

Direct Subsidized Loan (Stafford Loan)

Federal Perkins Loan

Direct Unsubsidized Loan (Stafford Unsubsidized)

Direct PLUS Loan

Work Study

An aid program that enables students to work part time to help pay for college expenses.

State Loans

Available in some states

College/Institutional Loans

Loans offered directly through the college. Interest rates can vary.

Vary by college

May not be offered by all colleges

College/Institutional Grants & Scholarships

Grants and scholarships offered directly through the college that do NOT need to be paid back.

Vary by college

May be used by colleges that do NOT use the CSS Profile
Who Should Fill out the FAFSA?
Everyone should fill out the FAFSA, whether you need help paying the majority of your college tuition or you need to secure low-interest loans. Even if you think you might not qualify for grants based on your financial situation, you should still fill out the FAFSA to qualify for low-interest federally-backed students loans, which are available to students with and without financial need.
CSS Profile: An Overview
What is the CSS Profile?
The CSS Profile is used to determine a student's eligibility for institutional aid and is used by approximately 400 schools. While these schools also use the FAFSA to provide aid from the government, the CSS Profile is used by these specific colleges to give out grants, scholarships, and loans directly. The CSS Profile is administered by the College Board, which states: "each year CSS Profile unlocks access to grant aid in excess of $9 billion for thousands of students."
In addition, the CSS Profile more closely examines a family's financial situation in order to award aid to students with the most financial need. The chart below explains the assets, savings, and other financial information that FAFSA and the CSS Profile consider.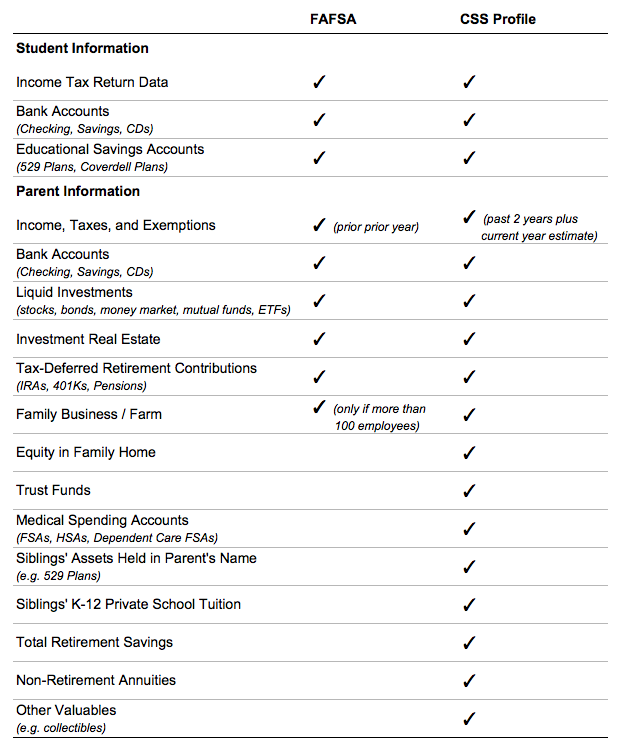 * Not every college that uses the CSS Profile takes all of these additional factors into consideration.
Troy Onink cautions families that "non-qualified annuities DO get counted on the CSS Profile, but not the FAFSA. Heed this warning before you decide to put all your liquid assets in annuity products to 'hide them' for aid purposes."
Who Should Fill out the CSS Profile?
If you are applying to one of these 400 schools, you need to fill out both the FAFSA (for federal and state aid) and the CSS Profile (for institutional aid). Prior to filling out the CSS Profile, it might be helpful to watch this detailed tutorial provided by The College Board.
How Much Does the CSS Profile Cost?
While the FAFSA is free, the CSS Profile does cost money: $25.00 for the first college and $16.00 for each additional. Therefore, if you are applying to 8 colleges that require the CSS Profile, it will cost $137.00.
However, on December 14, 2017, The College Board announced that "starting in fall 2018, CSS Profile will also allow an unlimited number of CSS Profile applications for first-time, domestic college applicants who take the SAT with a fee waiver or meet income-eligibility criteria."
Understanding the Financial Aid Application Steps
Step 1: Fill out the FAFSA and write down all login information!
Prior to filling out the FAFSA, take thirty minutes to watch Karen Cooper, Director of Financial Aid at Stanford University, work through the entire FAFSA on Khan Academy.

Gather and organize the documents that you will need to make the process go smoothly.

Use the IRS Data Retrieval Tool to transfer your tax information into your FAFSA form. According to the Federal Student Aid website, "The IRS DRT remains the fastest, most accurate way to input your tax return information into the FAFSA form."
Step 2: After filling out the FAFSA, consider completing the CSS Profile
If you are applying to these schools you should complete the CSS Profile. Prior to filling out the CSS Profile, gather all of the documents needed in order to make the process run smoothly.

Since the CSS Profile gives each school an opportunity to ask additional questions, be prepared to provide information on other financial items, such as vehicles owned or amount owned on vehicles, second mortgages, and home equity loans.

There is also a Special Circumstances section that enables families to explain any extenuating circumstances that may impact their financial situation.




Step 3: One week after filing the FAFSA and the CSS Profile, check with each college to see if you need to submit any additional paperwork.
Step 4: Once you receive your Financial Aid Award Letters, compare offers and do not hesitate to contact colleges' financial aid offices to clarify.
How the Financial Aid Process Works
Understanding Expected Family Contribution: Federal Method
After the FAFSA is completed, the government will determine your Expected Family Contribution (EFC), using the "Federal Method," which is determined by your financial information. Your EFC is NOT what you will have to pay for tuition! Rather, your EFC is a government formula that provides colleges with an indication of what you might be able to afford.
Within five days of filling out the FAFSA, you should receive your Student Aid Report (SAR). On this report, you'll find your EFC and your Data Release Number (DRN), which is required for any changes to your FAFSA. If the information on your SAR is correct, your FAFSA is complete. Keep a copy of the SAR for your records
Understanding Expected Family Contribution: Institutional Method
Colleges that use the CSS Profile in addition to FAFSA calculate a student's EFC by using the "Institutional Method," which will likely arrive at a different number from the "Federal Method" because the CSS Profile takes into consideration more financial information.
The College Board further clarifies that "the FM (Federal Method) is used to calculate the student's eligibility for federal aid, such as Pell Grants, and most types of state aid. Its used by most public universities. Many private colleges and scholarship programs, and some public universities such as the University of Michigan, UNC - Chapel Hill, and the University of Virginia, use the IM (Institutional Method) to determine the student's eligibility for their own grant funds." Scoir students can work alongside their parents to use the provided calculator to determine an estimated EFC.
Understanding Financial Need
The Department of Federal Student Aid explains that financial need is "the difference between the cost of attendance (COA) at a school and your Expected Family Contribution (EFC). While COA varies from school to school, your EFC does not change based on the school you attend."
The cost of attendance is a combination of tuition, room and board, books, travel, and personal expenses. Let's look at three different scenarios for a student whose EFC is $15,000.

Let's understand these numbers a little better. Remember, in all three situations, the financial need numbers are assuming that the student is paying $15,000 out of pocket. Now, each of these schools can decide how it might help with financial need using the school's financial aid. Below shows each potential scenario.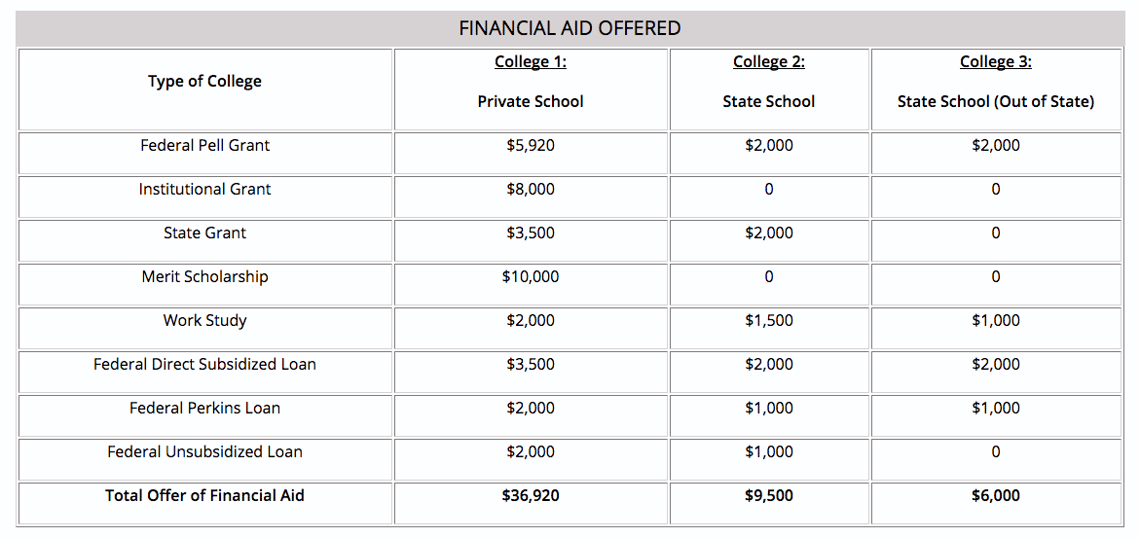 Once a student's financial need is determined, each college will present a Financial Aid Award Letter, which will show the grants, scholarships, work study, and loans offered to help pay for college. Some colleges (such as colleges 1 & 2 above) will attempt to offset a good portion of need, other colleges (such as college 3 above) may attempt to offset some need, and others may not offer any assistance at all.
After learning of the financial aid amount that each college is offering, let's look at what will be owed to each college.

Let's look at these numbers a bit differently. Since the EFC is a number that the colleges are assuming a student can pay, here are the total out of pocket expenses for a student, if he/she accepts the total financial aid award - including loans, which have to be paid back, and work study, which has to be earned.

Upcoming Financial Aid Deadlines for Regular Decision
FAFSA & CSS Profile Deadlines
Since most colleges award their financial aid on a first-come, first-served basis, it's best to fill out the FAFSA and CSS Profile as close as possible to October 1 each year. However, if you have not yet done so, you should fill it out as soon as possible. Many colleges and universities have financial aid application deadlines throughout the months of January and February. Go directly to the schools' website to learn their financial aid deadlines.
State-By-State Deadlines for FAFSA
The U.S. Department of Education's website has a list of student aid deadlines by state. While some say "as soon as possible after October 1st," most others have specific dates, which could be as early as mid January. If your state is not listed on this FAFSA form, then you need to research your state's application policy and deadline by looking up your state's financial aid administrator website.
Final Reminders
For some colleges, the financial aid deadline is January 15, so complete the FAFSA and CSS Profile as soon as possible.

Let the financial aid offices know if any financial changes occur, such as the loss of a job.

File the FAFSA and CSS Profile every year.

Check the deadlines each year. Both the FAFSA and CSS Profile are available on October 1st .

Keep in mind that many schools give out financial aid on a first-come, first-served basis, so apply as early as possible each year.
---