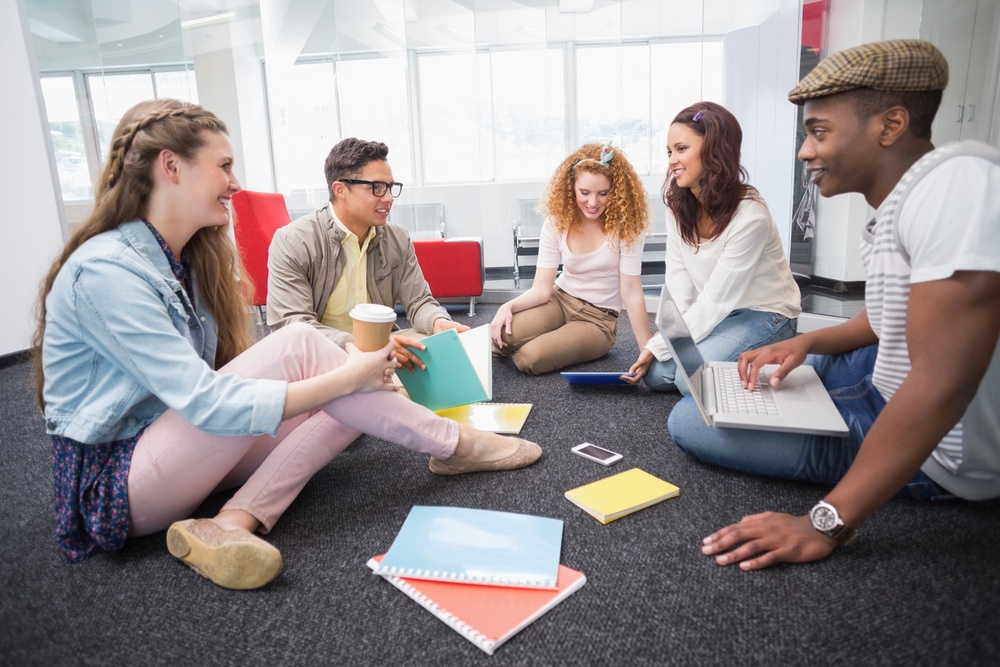 Can Residential Colleges and Living Learning Communities Enhance Your College Experience?
By Karen Miller on March 22, 2018
When most people think about living on campus, they think about the traditional college dorm with beds bunked over desks, shared bathrooms, and a Residential Assistant (RA) living down the hall. However, one of the best kept secrets, or at least something not discussed nearly enough, is unique residential communities on college campuses. Rather than dropping your freshman off in a room with one or two other people, there is an alternative that enables them to join a community of either like-minded people or a predetermined group, which often become the students' second families. Since freshman year can be a difficult transition for students, from homesickness to dealing with independence, these communities offer a support system that, simply put, most freshman could benefit from.

Blog Highlights:
The methodology behind Residential Colleges and Living Learning communities

Why Residential Colleges and Living Learning communities might be a better option than traditional college dorms
Although the housing system on each college campus varies greatly, I wish that I had known about Residential Colleges and Living Learning Communities when I was looking at colleges. Both of these systems help to enhance the student's college experience. Hopefully, once more people understand the benefits of these two types of communities, they will be at the top of the list of factors considered when choosing the best fit college.
Type 1: Residential Colleges
Collegiate Way describes residential colleges as attempting to "divide a large school into small, permanent, faculty-led, cross-sectional, human-friendly components that promote both learning and loyalty." Many students have likened them to the houses in Harry Potter. While the magical hat determines which house the students will live in during their time at Hogwarts, students are assigned the residential college they will live in prior to their arrival on campus. Since 400-500 students is the general guideline for the number of students in a residential college, it enables students to take advantage of all that a larger school might offer yet gives the students a smaller school feel. In addition to a sense of belonging, the students are able to connect with the faculty who live alongside of them in these communities.
'Having professors live among students is not a new idea,' said Robert O'Hara, a higher education consultant...The tradition stretches back hundreds of years to colleges in Great Britain and was adopted in the United States in the 1930s by Harvard and Yale.
The concept was largely ignored, however, as colleges ballooned in size when the baby boom generation began coming of age. In many cases, O'Hara said, students were housed in what he calls "cinderblock student ghettos," where they were robbed of important relationships with faculty.
In addition to living among faculty, residential colleges offer students the benefits of having these faculty members there to support them with academic and personal matters. As a result, these faculty members often become the students' support system away from home and help to break down barriers that can exist between students and faculty.
These communities give students a sense of belonging, pride, fellowship, and camaraderie. In fact, Yale explains its "residential college system, now more than 70 years old, [as] perhaps the most distinctive feature of the College. The residential colleges allow students to experience the cohesiveness and intimacy of a small school while still enjoying the cultural and scholarly resources of a large university; the residential colleges do much to foster spirit, allegiance, and a sense of community at Yale." To get an up close look at Yale's residential college, you can watch the funny, yet informative, Glee-style video, "That's Why I Chose Yale," in which the narrator explains that "before students arrive as freshman, they are randomly assigned to one of twelve smaller communities called residential colleges. These colleges have nothing to do with academic subjects or extracurricular activities. But rest assured they are quite a bit more than just living spaces."
While students at Yale usually live in their residential college for all four years, other colleges may have a different structure. For example, at Princeton, students are required to live in one of six residential colleges as freshman and sophomores but then have housing options for their junior and senior years.
Although residential colleges are often associated with Ivy League schools, there are residential colleges in sixteen countries and can be found on over thirty college campuses in the United States. In fact, Vanderbilt University decided to incorporate residential colleges as recently as 2008. Vanderbilt's housing website explains that "as aging residence halls like Kissam come down, they're being replaced with residential facilities designed to encourage classmates from varying backgrounds to come together in shared communities, living alongside faculty members who help foster dialogue and discovery outside the classroom." In addition to Vanderbilt, below you will find a variety of colleges that offer the residential college experience; however, it is important to note that each college refers to their residential college system differently. You can find the full list of colleges that offer the residential college experience at Collegiateway.org.
Type 2: Themed Housing and Living Learning Communities
College Themed Housing and Living Learning Communities (LLC's) are different from Residential Colleges because the primary focus is a common interest among the students who live within the LLC. American University explains their Living Learning Communities as "cohorts of students who live and explore a common interest or academic pursuit together. Some include required courses that students must take and others are organized around a theme or community interest that students wish to learn more about."
However, the Themed Housing or LLC's offered at each college can vary widely. While researching colleges or while on a campus tour, it is worth learning about the LLC's offered, and if interested, ask the admissions office if you can visit and/or talk with a student who is currently a member.
Living Learning Communities & Themed Housing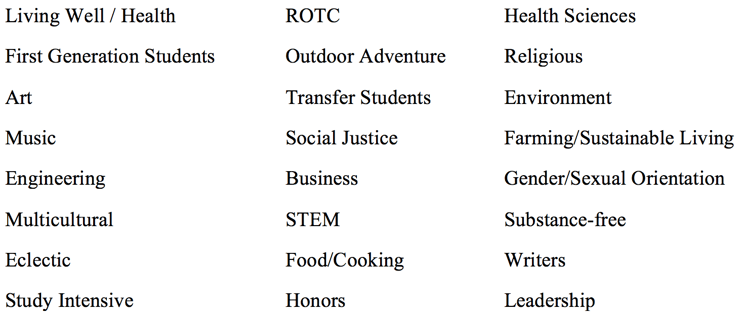 Syracuse University, which has over twenty-five living learning communities, does a great job of explaining the benefits of these communities on its campus. These benefits seem to be the same ones touted at most colleges that offer this type of experience.
enhanced academic and social opportunities,

improved GPA,

improved connection to faculty,

greater involvement in learning,

increased satisfaction with your SU experience, and

increased persistence to graduation.
While residential colleges tend to have very similar structures, other than the length of time the students must live there, LLC's and themed housing vary greatly in their structures. Most colleges that offer LLC's or themed housing also offer regular residential halls. Some offer academic support from faculty, others have faculty members live among the residents, yet others only provide a common interest among the students. Elizabethtown College explains that "students who live in these communities not only benefit from the learning that takes place in a traditional residence hall, but have the added benefit of being able to connect with others in their program of study, with shared interests, or shared lifestyles."
Elon University, which boasts thirty different Living Learning Communities, has faculty members who live among the students, similar to residential colleges. Since all on-campus housing is located in one area on Elon's campus, called the neighborhood, it takes "a holistic approach to education, recognizing that it is not enough to provide the means for academic success but we must also provide tools, knowledge, and resources to support students' personal, professional, and social development."
Although LLC's and Themed Housing can be found on all types of college campuses, many state schools, such as West Virginia University, University of Arizona, and Virginia Tech, and Florida State University offer these communities to their students. A more comprehensive list can be found here.
As a result of the many benefits offered through these communities, it's worthwhile to spend the time researching the type of LLC or themed housing offered at the schools to which you are considering. While I most likely would not have been running around campus singing about my university as the students at Yale did, I would have really enjoyed being in a tight-knit community during my time in college. As with many people, I missed my family and friends back home, especially during my freshman year. I enjoyed my first stint at independence, but I had a hard time finding my place on campus. If I had lived in a residential college with a strong community bond or an LLC with those who had similar interests or passions, it would have made my transition much more successful. I remember feeling alone in my pursuit of independence, yet afraid to reach out for help, and there are many with similar stories. As a result, when it's my children's time to start searching for colleges, this type of living community will be at the top of their lists!