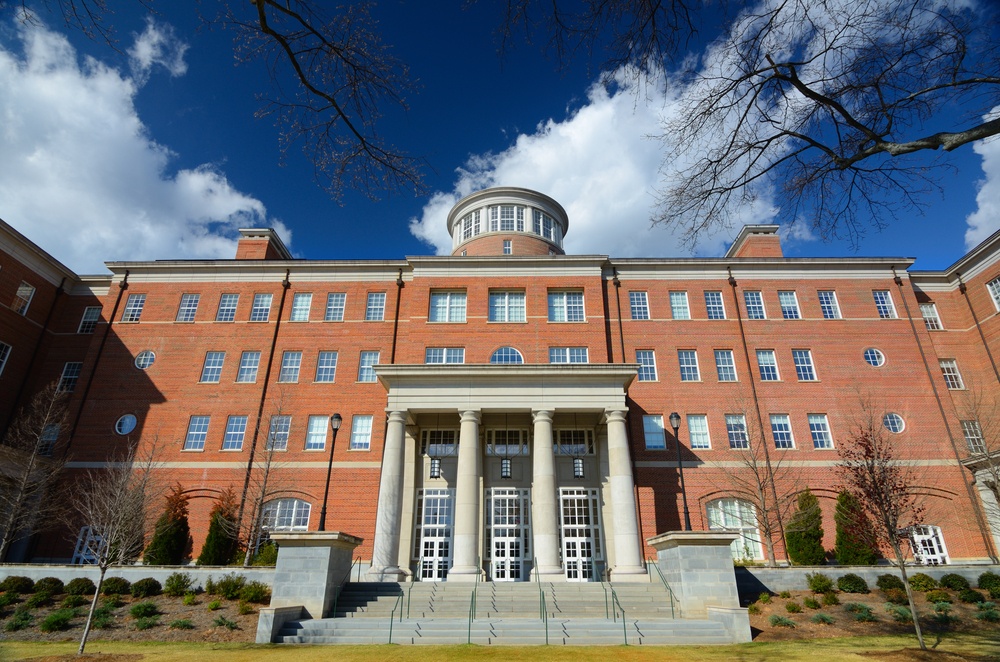 Going on a College Tour? Helpful Preparation Tips and a College Evaluation Form
By Karen Miller on February 09, 2018
With spring break just around the corner, now is a great time to start planning visits to colleges that you might be interested in attending. If you plan on taking a trip during your high school's spring break, it's best to go to the colleges' websites and register for a campus tour sooner rather than later because these dates often fill up quickly. Since colleges' spring breaks are often different than high schools' breaks, most campuses will be bustling with activity. While visiting in the summer is better than not visiting at all, it's always better to visit when you can experience a typical day on campus with the students there.
However, you don't have to wait until spring break to start visiting college campuses. In fact, if you live within an hour or two of colleges, it's best to start exploring locally over the next few weekends. If you are fortunate enough to be within driving distance or a train ride from different types of campuses, then take advantage of what is close to begin figuring out what type of college campus feels right for you. If possible, try to visit a campus in a city, one in the suburbs, and one in a rural community. In addition, it's worthwhile to experience campuses with different size student bodies: a smaller college with under 5,000 students, a medium-size college with 5,000-15,000 students, and a large campus with over 15,000 students.
While you may not want to attend a college that is just down the street, these local schools can help you figure out what you like and dislike in a college. Then, you can start to narrow down your college search. As a result, when you decide to take longer trips to visit colleges, you can make the most of these opportunities.
Prior to any college visit, whether it's local or far away, it's best to do some research before attending. As mentioned, it's highly recommended that you sign up for the official campus tour not only because you will get a more comprehensive idea of the college but also because it shows "demonstrated interest" in the college. With more students applying to more colleges than ever before, colleges are looking for ways to determine which students are more likely to accept their offer of admission. In fact, for the high school class of 2018, many colleges, such as Florida State University, Dartmouth College, University of North Carolina, and Bowdoin College, have reported that the number of applications has exceeded any previous year. It appears that all types of colleges - large state schools, Ivy League schools, and small liberal arts colleges - are inundated with applications. By showing demonstrated interest in a college, they just might feel better about admitting you.
However, if you cannot visit for financial reasons, you should contact the colleges to which you are applying to let them know about your situation and to find out if they have any opportunities, such as a "Fly-In" Program, that will either help to offset the cost or completely cover all expenses for your visit. In addition, some colleges offer special programs over specific weekends. For example, Carnegie Mellon University may cover up to $600.00 of travel expenses for students to attend one of its Celebration of Diversity Weekends:
"Celebration of Diversity Weekends are an opportunity to experience the diverse community, academic, extracurricular and cultural facets of both the campus and Pittsburgh. On Saturday evening, you'll be matched with a current student who will be your Overnight Ambassador during your stay... Travel assistance may be available for students with financial need who have at least a 3.3 GPA on an unweighted 4.0 scale and a combined SAT score of 1270 or ACT score of 27. We give preference to students who are able to attend the weekend in its entirety."
College Greenlight keeps an updated list of colleges that offer these types of programs. However, it's important to note that you must apply to most of these programs as early as the summer before senior year. Therefore, it's a great idea to start researching them now.
What Should I Do To Prepare for My College Tour?
After you have scheduled an official tour, it's a good idea to start investigating your options.
Virtual Tour:

Take an online virtual tour, if available on the college's website, to get a good feel for the campus and what you might like to visit.

Go to a Class / Meet a Professor:

Contact admissions to see if you are able to sit in on a class and/or meet with a professor. If they allow prospective students to do so, then research a professor and request to sit in on a specific class that interests you. Prepare questions that you would like to ask the professor. Some colleges, such as

Elon University

, have a link on their admissions website to sign up to attend a class.

Majors / Programs:

If you have a specific major or program that you are interested in, make sure they are being offered at the schools that you are touring. If they do, then take the time to read about them and find the buildings on a map so that you can easily locate them once on campus.

Services / Resources:

Research the types of services that the college offers. Our

"College Search Guide for Students with Learning Disabilities and Attention Disorders"

will provide you with information to consider before and during your time on campus. Most of these services, such as the writing center and peer tutoring, are available to all students.

Overnight Opportunities:

Some colleges offer prospective students the opportunity to stay with a current student either overnight or for a weekend in order to have a deeper understanding of the college culture. For some of these colleges, this opportunity may only be available to high school seniors who have already been accepted.

Schedule an Interview with Admissions:

Reach out to the admissions office to see if there is the opportunity to do an interview while on campus. If given the opportunity, prepare ahead of time! Spend the time to thoroughly research the college, including the program of studies, majors, professors, and extracurricular activities.

Campus Events:

Research what campus events might be taking place the day that you are visiting. It could be something small, such as a visiting author, to something large, such as a sports game.
What Should I Do While on Campus?
Either before or after the official tour, take some time to explore on your own. Below are some suggestions of things to do while on campus to get a good feel for the environment.
Find the building which houses your major and walk through it.

Eat in one of the dining halls.

If given the opportunity, ask a few students how they feel about the college, maybe something as simple as "What are your favorite and least favorite things about this school?"

Attend an event on campus. If you haven't researched prior to coming, ask the admissions office if they know of any events happening on campus.

If there is a downtown area, go out to dinner locally to get a sense of the surrounding community.

Pick up the campus newspaper to read it on your car ride home.

Collect the names and email addresses of any staff or faculty member who took the time to talk with you.

Be sure to take pictures while on the tour - they will be super helpful when thinking back and comparing schools later!
What Should I Do After the Tour?
When you get back into your car, take a few minutes to debrief. You can write down your thoughts in a notebook, you can use SCOIR's Notebook feature on its free iOS or Android mobile app to save notes and pictures that you take on the tour, or you can print out this college evaluation form (shown below). Whatever method you decide to use, it is important to spend 15-30 minutes evaluating your impressions after touring a campus. If not, all of the tours will eventually blend together, and you will have a hard time remembering the specifics of what you liked and disliked about each college.


DORMS: ☆☆☆☆☆ (Overall Rating)
Things to Consider:
What did you think of the size of the rooms? How are the other amenities? What did you think about the bathrooms? Size? Location? Is there a common area? Study area? Do all freshman live together or near each other?
Your Notes/Thoughts About the Dorms:

FOOD: ☆☆☆☆☆
Things to Consider:
How many cafeterias/food spots are there are campus? How was the quality of the food? If you have any specific allergies or food requirements, can they accommodate you? Details about meal plans.
Your Notes/Thoughts About the Food:

STUDENT BODY: ☆☆☆☆☆
Things to Consider:
If you spoke with anyone, what were their thoughts? Could you see yourself with the students? Did you get a sense of school spirit and pride?
Your Notes/Thoughts About the Student Body:

CLASSES/PROFESSORS: ☆☆☆☆☆
Things to Consider:
If you were able to sit in on a class, was it as you expected? Better? Worse? How engaged were the students? How did the classroom look and feel? If you were able to speak with the professor, what did you discuss?
Your Notes/Thoughts About the Classes/Professors:

EXTRACURRICULAR ACTIVITIES: ☆☆☆☆☆
Things to Consider:
Did you learn about any clubs or activities that might interest you? Did you notice any signs on bulletin boards with interesting events? Were you able to attend a sports game? How active was the student body?
Your Notes/Thoughts About the Extracurricular Activites:

CAMPUS: ☆☆☆☆☆
Things to Consider:
Did it feel too small? Too big? Just right? Did you like the style of architecture? Why or why not? What transportation services are available? Did the campus feel safe? Are classes within a major located in a specific area?
Your Notes/Thoughts About the CAMPUS:


After you have written down your thoughts, take a few minutes to send emails to the faculty and staff who you've spoken to. Then, when you return home, it's a good idea to send them a handwritten thank you note as well and include specific things you spoke about or specific topics from the class that you found interesting. In addition, do not judge an entire college on the tourguide alone. Often times, students will not like a college because they didn't like the tour guide. Remember the tour guide is one person out of thousands on the campus. Instead of focusing on that person, use the time on campus to evaluate all aspects of the college.
Finally, once you have been accepted into college, it's a great idea to visit the ones that you are considering attending in order to have a final look before deciding. In fact, some colleges have programs specifically designed for prospective students to attend once they have been admitted, such as the Admitted Student Program at Dartmouth College, the Candidates Day at Villanova University, or the Admitted Student Day at the University of Colorado. During these final visits, be as detailed and thorough in your evaluation of the schools as possible. Since you have already visited each of them, reread your notes and spend some time thinking about what you would like to see again or learn more about while on your last visit before making a decision. Now, you are in the driver's seat and have all of the control. Take this opportunity to make the best decision for you!