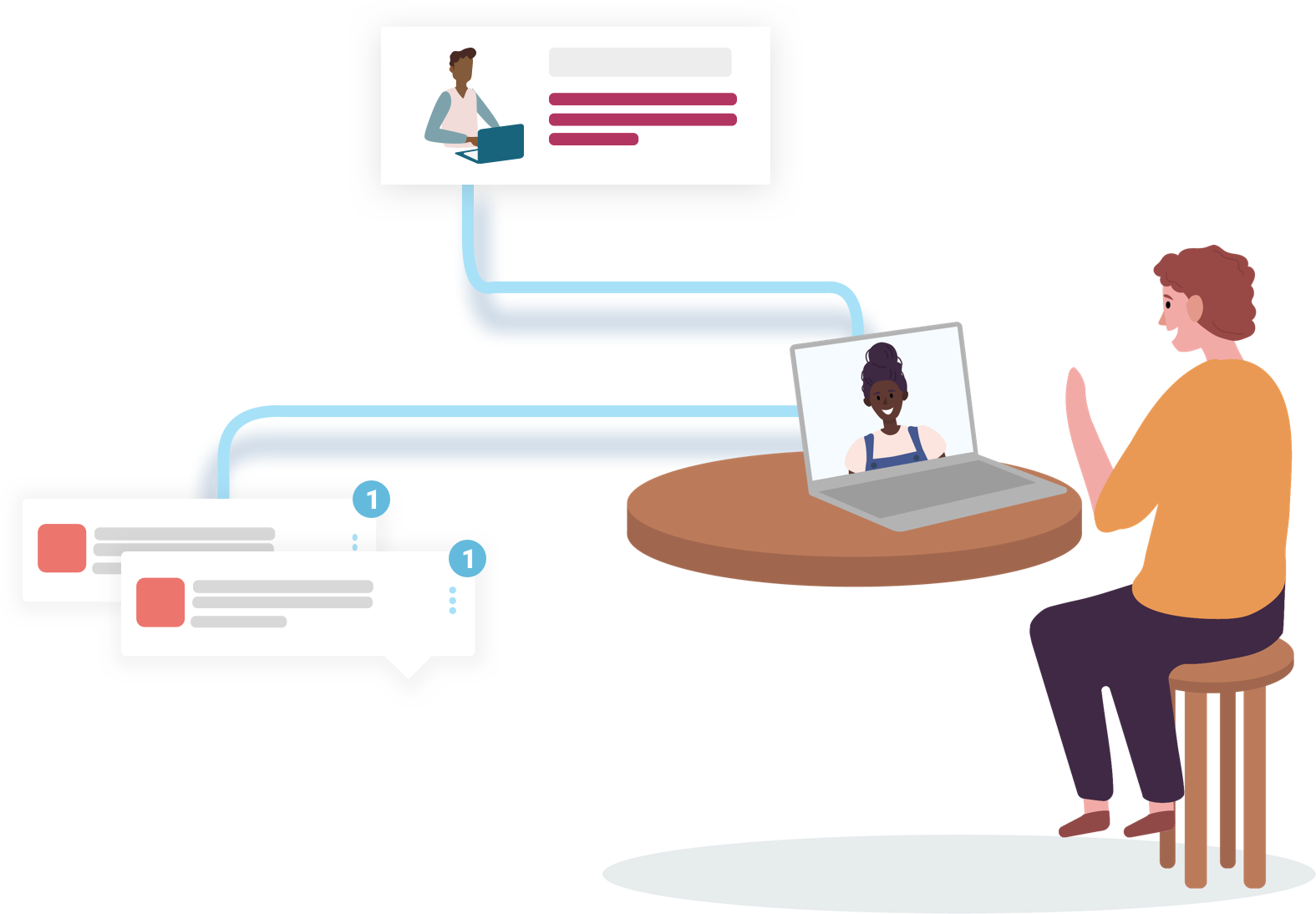 Key Themes from This Year's Recruitment Cycle
By Megan Kauffman on February 17, 2021
Last month we met with some of our Launch Partner Program colleges to discuss their biggest challenges and successes in admissions over the past year as they shifted to virtual recruitment with limited travel and no campus visits, budget reductions, and adapting to new technology. Three key themes emerged from the conversation. Firstly, personalization matters more than ever when engaging with prospective students. When it comes to virtual events, one size doesn't fit all. Lastly, we heard about the importance of being agile in adapting to what's working and maybe more importantly, what's not working. Let's dive into each of these topics further.
Personalization matters more than ever
Personalization matters more than ever, but it can be challenging in a digital environment. Without in-person interactions, it's harder to get to know prospective students and students expect experiences that are more personalized than just their name at the top of an email. As one admissions leader said during the product workshop, "Anyone can use mail merge." It's authentic personalization that makes an impact. Students are accustomed to their digital experiences being tailored to their interests and background when engaging with companies like Amazon and Pandora and college admissions websites often fall short on personalization. This leaves students feeling less connected to the colleges they're exploring and many suspect, less likely to yield.
What we heard again and again from our partners was that one-to-one engagement was where they were seeing the most success. This was executed in a variety of ways, but one-to-one virtual meetings was the predominant format. One college had all of the admissions reps add a meeting scheduling link added to their email signature so that any prospective student could book time to meet with a rep individually to talk about their interests and have questions answered. It was easier to make time for the meetings this cycle with in person travel halted.
At another institution, when scalability became an issue, they had student volunteers virtually meet with prospective students. What they found was that student-to-student engagement was even more powerful. Student stories broke the mold from the normal info that every school is delivering and helped prospective students gain a better understanding of what the school is truly like, as well as answer questions about campus culture. Many of our partner colleges underscored the importance of current student engagement in the recruitment process in driving applications and enrollments.
In each of the product workshops, we were joined by a high school counselor to share the student and family perspective. One counselor who worked predominantly at Title 1 high schools for the last 30 years said that interacting with current students and admissions counselors on a personal level was especially critical for first generation and underrepresented prospective students, who may feel intimidated by the college search process. Having reps focused on specific demographic segments that understand the unique challenges faced can also be helpful. Having current first generation students reach out to prospective students was very well received by students according to the high school counselor.
Takeaway: Having a personal connection is key during the admissions process. Prospective students want to feel like they belong, even if they can't visit campus right now. Make sure to include personalized communications and opportunities for personalized interactions with your institution as part of your recruitment plan.
One size doesn't fit all when it comes to virtual events
Another topic we heard frequently related to personalization was that one size doesn't fit all when it comes to virtual events. Some colleges focused on live stream virtual events while others offered recorded virtual events with varying degrees of success. We were impressed by the variety of events offered ranging from drive through campus tours including strategically placed signs with QR codes to track engagement to virtual lectures with notable faculty during early yield season to one-one-one live virtual tours with current students.
What stood out was that it really took a combination of events to meet the needs and interests of prospective students. Some students explore colleges during the day and prefer live events. Others do their research at night or are in a different timezone and prefer recorded or asynchronous events. Some students earlier in the search process prefer large scale events while others prefer one-to-one meetings as they narrow down their list, which may not always be scalable for admissions teams. There wasn't a singular type of event that checked the boxes for all prospective students and inquiry phases.
Across all event types, having valuable content was essential. This may sound obvious, but in a virtual format, prospective students are likely already on your website or can easily access the basic information about your college like the number of undergraduate students or student to faculty ratio. One college talked about how they focused on making sure their live event sessions were delivering content that wasn't easily accessible from the website and how they saw more prospective student engagement after making that change. Another college plans out an events content calendar and has a new focus for their events every few weeks, such as academics or student life, so that there is new content for returning prospective students who attend multiple events. This became a great way to gauge level of interest.
Like with other components of recruitment, it's important to consider all prospective students when it comes to events. One college talked about including subtitles in multiple languages to be inclusive of non-native English speaking students and families. Multiple colleges mentioned reaching low income students without access to a strong wifi signal is a concern with virtual events. Offering printable PDFs of event presentations was one way a college partner tried to address that challenge.
Takeaway: Don't miss out on an opportunity to showcase your institution to prospective students. Offer multiple virtual event formats, including synchronous and asynchronous events, to meet students where they are.
The importance of being agile in adapting to what's working
The past year has been full of rapid change and higher education had to adapt seemingly overnight more than once. The colleges that saw the most success in meeting or exceeding their goals were the ones that remained agile in adapting to what was working and pivoting quickly when traditional recruitment methods weren't working. When asked about their favorite moment from the fall admissions cycle, the admissions leaders we met with spoke about being in awe of how their teams rallied together to get things done, the way traveling admissions counselors adapted to being reincorporated into the office team, and the flexibility in reallocating resources spent on travel to digital efforts.
Those that adapted well to virtual events saw an expansion of the top of their funnel as they were able to increase their reach beyond the students able to visit their physical campus. On the flip side, colleges are competing with more schools than ever. Students, who were already overwhelmed by the volume of emails they were receiving from colleges, have inboxes that are even more overloaded, making it harder for colleges to capture their attention and stand out amongst the noise. It's easier for students to "visit" schools, but it can be challenging to gauge student interest and intent with virtual only engagement. Yield remains a question mark.
Some colleges expressed concern about zoom fatigue amongst prospective students. As one admissions dean pointed out, it may not be zoom fatigue. It may be fatigue with boring content. Carefully monitoring student engagement during virtual recruitment can help identify what is resonating with students and what content or events should be skipped. That can be difficult when historically recruitment plans and event calendars were set in stone before the start of the season, however in this environment, it is critical to remain adaptable to find what works best for engaging students in this moment.
Takeaway: Students are tuning out when it comes to traditional recruitment messaging and events. Constantly reflecting on what's working and what's not working helps optimize student engagement. Iterate repeatedly on new content and recruitment strategies to find what works best for your prospective students.
We're continuing to meet with our Launch Partner Program colleges regularly to keep a pulse on what's happening in the market and build the tools that are needed to support student recruitment and engagement. One thing is for sure: Virtual recruitment is here to stay. The ratio of in person to virtual recruitment may shift as the impact of COVID lessens, but with the funnel expansion capabilities, virtual events are a valuable tactic to comprehensive recruitment plans. We learned the value of change and adaptability and forward-thinking colleges are seeing success by shifting to a student centered approach.