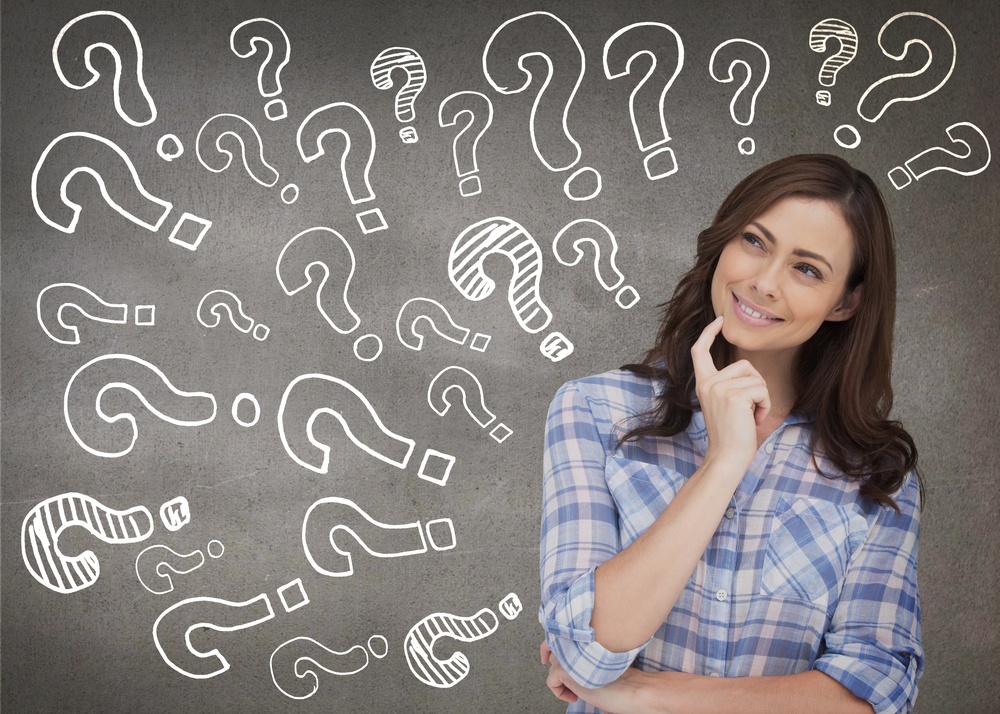 Confused by "Score Choice, Superscoring, and Test Flexible"?
By Karen Miller on May 12, 2018
Most people who are venturing into the college admission process have heard about the SAT and the ACT tests. For many, their knowledge ends there. Most are confused by words such as score choice, superscoring, self-reporting, test flexible, and test optional. However, it's important to understand these college application and admission terms since you will hear them while touring, researching, and applying to colleges. Often times these terms are thrown around by the experts as if they are a part of everyone's everyday discussions. While they might not have been in your life before, once you journey down the college admissions road, they quickly become part of your world. So, let's demystify this process and empower everyone to feel confident.

Blog Highlights:
The difference between Score Choice and Superscoring with the SAT

Are students able to "self-report" tests scores to colleges?

What do "Test Flexible" and "Test Optional" really mean for a college?
What it "Score Choice"?
Score choice, which is offered for both the SAT and ACT, allows you to decide which test dates to send to your colleges. For example, if you took the SAT or ACT four times, you don't have to send all four score reports to the colleges. Instead, you can decide or "choose" which one you would like to send. Let's say you took the SAT in August, October, November, and December and scored your best on the August and November tests. By using score choice, you only have to send in the August and November test results. The colleges will not see how you scored on the October or December tests.
There are a few things to keep in mind. First, some colleges, particularly the most selective colleges, may want you to send in your scores from all of the tests that you have taken. It is your responsibility to know the policy of each school to which you apply, and the best source for this information is to go directly to each school's website, especially since admission policies can change from year to year. While most Ivy League colleges require all of the tests taken to be sent, Princeton University states, "We allow applicants to use the score choice feature of both the SAT and ACT, but we encourage the submission of all test scores." While the word "encourage" might be difficult to interpret, Princeton clearly states that sending all test scores is not mandatory.
The second important point to understand about score choice is that you cannot choose which sections of a particular test day's scores to send. The College Board helps to clarify: "No, you can't choose to send your Math score from one test day and your Evidence-Based Reading and Writing score from another test day. But some colleges use superscoring, which means they consider your highest section scores across multiple test dates. You can choose which scores to send by test date for the SAT (Score Choice) and by individual test for SAT Subject Tests. Scores from an entire SAT are sent." The same holds true for the ACT.
Let's break this down a bit to make it even more transparent. The student below took the SAT test four times and here are the results: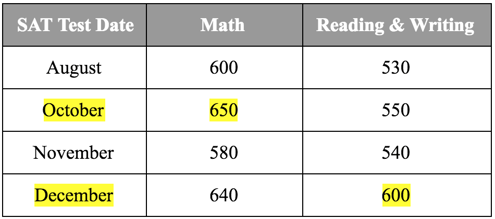 As highlighted, this student's highest Math Section (650) was on the October test and the highest Evidence-Based Reading and Writing Section (600) was on the December test. By using "Score Choice," this student should only submit the October and December test scores to colleges. Now keep in mind that the colleges will see both sections from the October test and both sections from the December test; however, most schools only take into consideration the students highest scores, also known as "Superscoring."
What does "Superscoring" Mean?
As mentioned above, most colleges will take into consideration the students best scores from different test sections. So in the chart above, the student's "superscore" would be a 1250, which is taking the 650 math from October and the 600 Evidence-Based Reading and Writing from December.
Let's take a look at an ACT example for a student who took the ACT three times: once in July, once in September, and once in October.

What's important to understand is that the composite score for a specific test date is the average of the four test sections added together and divided by four, which is shown above in the last column. To find out the composite superscore, take the best score in each section, regardless of test date, and find the average. In this case, the student's best composite score is comprised of the numbers highlighted above: 30 (English/September), 27 (Math/October), 26 (Reading/October), and 27 (Science/October). The total composite score is a 27.5, which is rounded up to a 28, and is clearly better than any individual composite score. As a result, if the college allows score choice and also superscores test results, a student would only send the test reports from September and October.
While the majority of schools superscore an applicant's test results, there are several schools, such as Penn State University and the University of Michigan, that do not superscore and instead only evaluate the best test taken on one day. Again, to find out each school's testing policies is directly on each college's admissions page.
What Are "Fee Waiver" and Who Qualifies?
The cost of both the SAT and ACT tests range from $46.00 (without the essay) to $62.50 (with the essay) for each test taken. Therefore, fee waivers are provided to students from low-income families as a way to make college access more affordable.
The College Board explains that you are eligible for a fee waiver if:
You're enrolled in or eligible to participate in the National School Lunch Program (NSLP).

Your annual family income falls within the Income Eligibility Guidelines set by the USDA Food and Nutrition Service.

You're enrolled in a federal, state, or local program that aids students from low-income families (e.g., Federal TRIO programs such as Upward Bound).

Your family receives public assistance.

You live in federally subsidized public housing or a foster home, or are homeless.

You are a ward of the state or an orphan.
The ACT's guidelines are similar; however, they published a version of the federal government's requirements, of which the two main factors are family income and number of people in the house.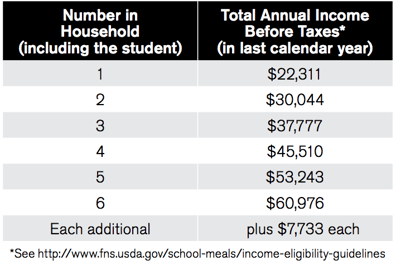 Students who qualify for fee waivers are also able to send their score reports to colleges for free. In fact, for the 2018-2019 school year, the College Board changed its policy so that "every student who uses an SAT fee waiver can send scores to as many colleges as they want for free," which is a savings of $12.00 per school. Similarly, the ACT recently announced that "Starting in September 2018, students from low-income families who take the ACT with fee waivers will be allowed to send ACT score reports for free to colleges and/or scholarship agencies at any time during their college search process." The ACT further explained that these "The free score reports—up to 20 for each test students take with a fee waiver—will never expire, so students may use them whenever they wish." The savings is even greater for the ACT test, which typically charges $13.00 per test date per report.
In addition to the cost of taking and sending the tests, most students will likely spend time preparing for these tests. Thankfully, there are now comprehensive, free resources available to students, as outlined in SAT and ACT Resource Guide: From Free Prep to Private Tutoring. In addition, over the last year, a new trend has started, which allows students to self-report their SAT or ACT scores to colleges, yet another savings for the students.
Wait a Minute, Can Students Really "Self-report" Test Scores?
Yes - for some schools! As a result of the increasing costs associated with applying to college, some colleges are now allowing students to self-report their SAT and ACT scores when they apply to college, which often saves the students hundreds of dollars. For example, Amherst College offers three ways in which students can self-report their standardized tests:
Enter scores in the testing section of the Common Application, the Coalition Application or the QuestBridge Application.

Enter scores and upload screenshots of associated score reports into the applicant's online portal (available after submission of an application for admission to Amherst).

Submit screenshots or scanned copies of score reports via email to admission@amherst.edu.
Thankfully, this trend has gained significant momentum over this past year. Previously, students were required to send their SAT and/or ACT scores to each college when they applied to the school. With self-reporting, the students only need to send the official score reports to the college to which they enroll. So, one report to one college will only be $12.00 for the SAT and $13.00 for the ACT. Princeton Review has been keeping an updated list of colleges that offer self-reporting.
What do "Test Flexible" and "Test Optional" Really Mean?
Test flexible can mean different things to different colleges. Typically, test flexible means that you still need to submit some form of standardized test or tests; however, the applicants can choose which test(s) best represent them as a student. In fact, "NYU has one of the most flexible testing policies of any college or university. To be eligible for admission, you must submit one of the following:
Please take note of the asterix symbol at the end of several of these options. For NYU, the explanations can be found on its website; however, it is important to note that most test-flexible and/or test optional schools often have exceptions. As a result, it is extremely important that you look into each schools' testing policies.
Fairtest.org is a great resource for finding schools that are test optional, which on the surface may seem like you do not need to send in any test scores. While some colleges do not require tests at all, there are some exceptions to the "test optional" policies at many of the 1,000 colleges that are now listed on Fairtest.org's website. In fact, it's really important to recognize the numerical footnote at the end of many of the colleges listed because the footnote tells the full story. As you can see below, there are many exceptions.

*Source: http://fairtest.org/university/optional.
While it's fantastic that there are some colleges with test flexible and test optional policies, I caution you to take the time to understand each school's policy. Do not simply look at these 1,000 colleges and assume that you do not need to take any standardized tests.
Understanding the terminology around standardized tests will hopefully make you feel a little more in control of this often overwhelming process. With this knowledge you can navigate through the process and make the best decisions for you, while hopefully saving some money along the way. In the end, while applying to college can be overwhelming, I encourage you to find joy in the process as well.
For more information on SCOIR and how its search features can help you find the best fit college, sign up below - it's free!